Walt Disney was without a doubt a genius when it came to filmmaking, animation, and running one of the most gigantic empires the world has ever known. He brought a new medium of filmmaking to the mainstream and his cartoons, feature films, and theme parks helped secure his legacy. But not everything Disney touched turned to gold.
As hard as it might be to believe, Walt Disney wasn't always a success in his film endeavors, animated or otherwise. In fact, several projects headed by Disney himself didn't come to fruition. And just what kind of scrapped features did Disney devise? Have a look at our list of ten canceled Walt Disney projects.
10 1930s Alice in Wonderland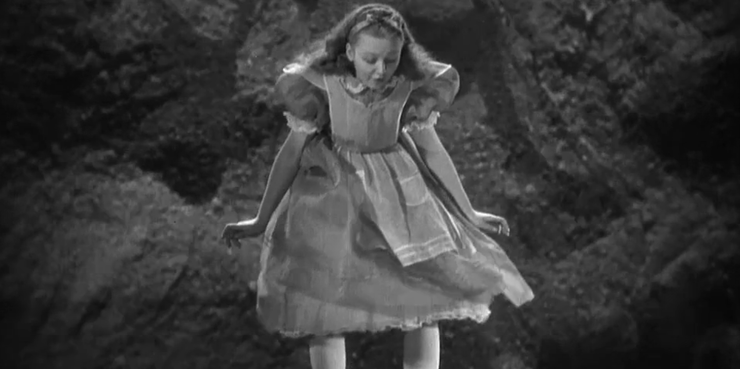 If you didn't know already, Snow White and the Seven Dwarfs might have been Walt Disney's (and the world's) first full-length animated feature, but it wasn't the first story Walt Disney had in mind. One of the first was none other than that famous surreal fairytale, Alice in Wonderland.
Although he did get to make his own version of Lewis Carroll's novel, that version was miles away from what Disney originally intended. In fact, the original pitch was more book-accurate, and even scarier than you would believe. Unfortunately, Paramount Pictures beat Disney to the punch with their star-studded adaptation in 1933.
9 The Wizard of Oz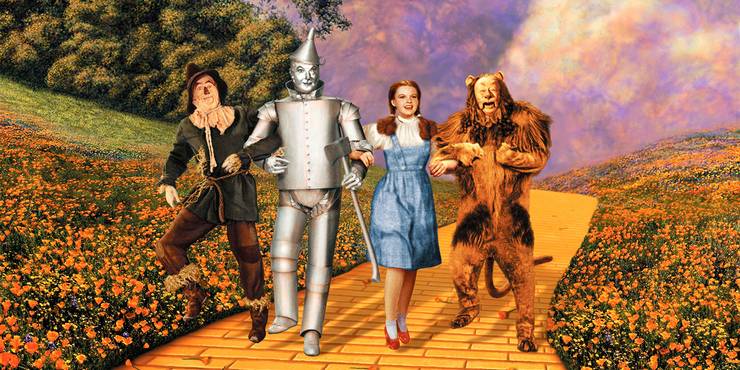 If you can believe it, Disney also had eyes on L. Frank Baum's The Wonderful Wizard of Oz as one of his first animated features. In fact, Disney has actually had a curious relationship with trying to adapt the famous fantasy novel long before Sam Raimi got his updated version out there.
Shortly after the success of Snow White and the Seven Dwarfs, Disney set his sights on  The Wizard of Oz. There was only one thing standing in his way ⁠— Samuel Goldwyn, who had bought the rights to the title for $60,000. Once Goldwyn sold the rights to Louis B. Mayer for the famous 1939 film, the rest was history.
8 The Rainbow Road to Oz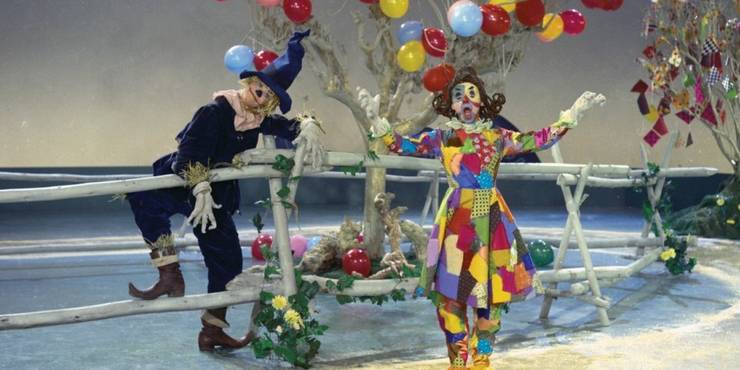 Those of you who have done your Disney homework already know that Disney wasn't a man to give up easily. In the end, he always knew how to get what he wanted, so a second attempt at an Oz film was made when the rights to a collection of other Oz books went up for sale.
Now, Walt Disney had the rights to the other Oz stories, but what was he going to do with them? An attempt at a sequel was proposed and conceptualized. Song and dance segments were even performed by the Mouseketeers on Disneyland with costumes and all. Unfortunately for Uncle Walt, that's as far as the Yellow Brick Road would go.
7 The Three Bears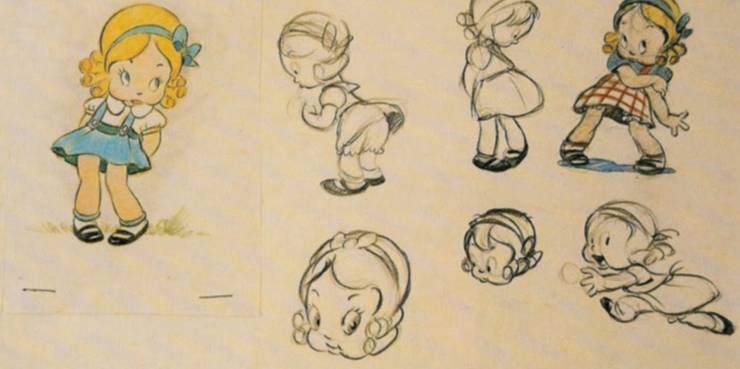 Disney had already created a version of the classic with his Alice Comedies in the '20s, but it makes sense to want to do an updated version with better techniques and technology. So with his affection for using anthropomorphized animals, a version of Goldilocks and the Three Bears was inevitable, but unfortunately unsuccessful.
Disney and fairy tales go hand in hand ⁠— that's just a law of the universe. That being said, two different versions of The Three Bears were attempted. First, as a Silly Symphony, whose concept art still remains. Then, as a full feature film akin to Snow White and the Seven Dwarfs. Long story short, the idea was scrapped and Disney moved on to other projects.
6 Don Quixote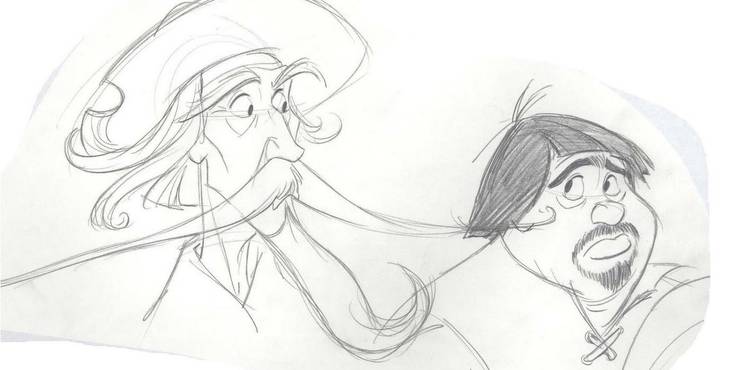 Much like The Wizard of Oz, Disney has a long history with Don Quixote and trying to adapt Man of La Mancha into an animated film. Even as we speak, the studio is still trying to develop a Quixote film ⁠— but not before Walt Disney himself attempted to bring Cervantes' most famous character to life.
There was even a time where Mickey Mouse was considered in playing a lead role. Unfortunately for Disney, Don Quixote and Sancho Panza are still waiting to set forth on their adventures with the studio.
5 Destino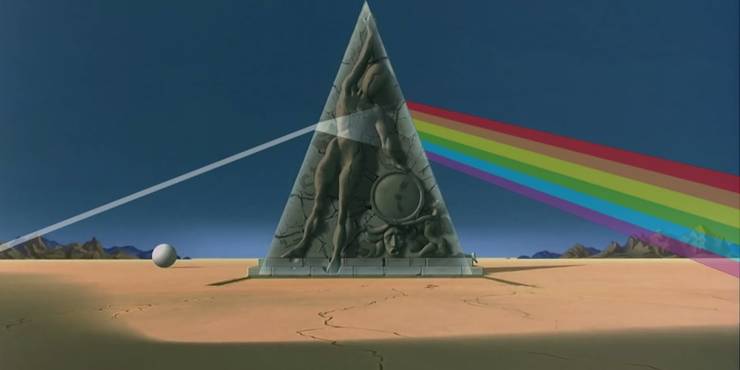 This is more of an honorable mention than anything else, but when you have Walt Disney collaborating with Salvador Dali, exceptions have to be made. There was a time when both artists worked together to create a segment for Disney's Fantasia. Unfortunately, this concept never made it past development by Disney and sketches by Dali.
That all being said, the Walt Disney Company was able to take the pieces left by the two creators and finish their work in a short film called Destino. It beautifully blends Disney animation with artwork by Dali and it is a true feast for the eyes and imagination.
4 Fantasia Series
On the subject of Fantasia, one thing many Disney fans don't know is that Fantasia wasn't originally a one-hit-wonder. On the contrary, it was Walt Disney's vision that Fantasia would be like going to see a concert in that things would be added, changed, and altered every time you went to see it.
Fantasia 2000 briefly discusses this concept, and even goes as far as to show us several unused pieces of concept art for scrapped Fantasia segments. Though the series didn't take off as Disney had hoped, he was able to create a musical series with the package films through the '40s.
3 Various Mickey Shorts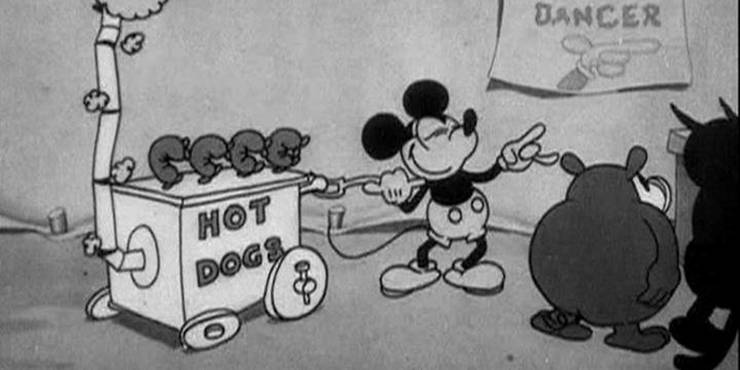 Like Walt Disney always said, "It was all started by a mouse." Mickey Mouse has had quite the journey through his 90+ years career. He's been everything from a steamboat captain to a sorcerer, becoming an American icon in the process. That all being said, there were more than a few Mickey adventures that never saw a film reel.
Various Mickey shorts and concepts never made it out of planning or storyboard. Such shorts saw Mickey as a cowboy, in a vaudeville act, or even fighting a sea monster. But for one reason or another, they were never finished, and eventually brought out of development.
2 The Gremlins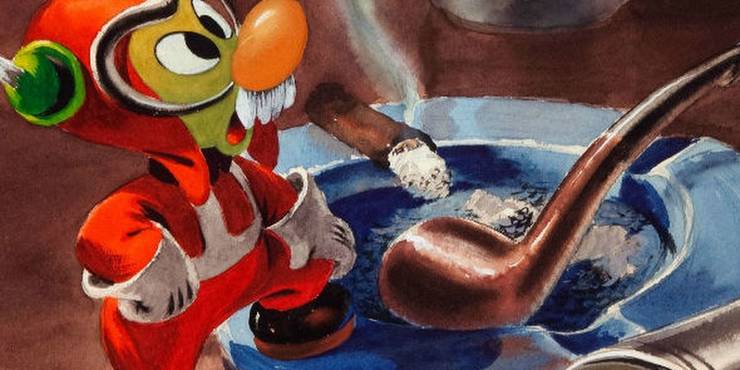 Before Joe Dante and Steven Spielberg brought Gizmo, Stripe, and the rest of the mischievous little monsters to the big screen in the '80s, Walt Disney sought to adapt the work of children's book author, Roald Dahl, who had his own version of the tiny terrors.
In fact, The Gremlins was his first children's book long before Charlie Bucket set foot in Wonka's factory. The first edition of the book was published through Walt Disney Productions, and there were even attempts at an animated feature. The issue boiled down to the lack of one solid story for the film. It was soon abandoned, and the Gremlins didn't appear again until the Epic Mickey series.
1 Various Hans Christian Anderson Projects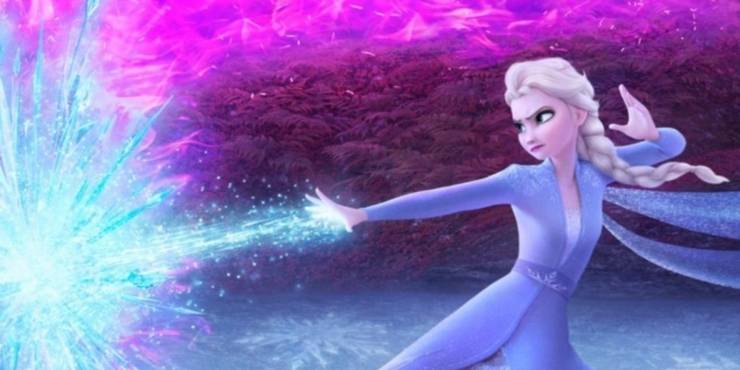 Before Frozen was Disney's biggest cash cow, the studio was in a constant battle to develop some sort of film based around the life and/or writings of author Hans Christian Andersen. Different concepts based on The Snow Queen, The Little Mermaid, and The Steadfast Tin Soldier were all in development hell for a time.
It was Walt Disney who had the brilliant idea of doing a hybrid of both fact and fantasy that would have starred Danny Kaye in the title role and featured different stories mingling with the author's time in Denmark. But like so many things on this list, decisions couldn't be reached and so Disney had to let it go.
Next10 Underrated Movies Featuring The Cast Of The Northman
About The Author