When it comes to toys and collectibles, pretty much every company that publishes comics has its share of the market. Not every company can compete with the others though, which is why the likes of Marvel Comics and DC take the lead in market dominance. Because of this, you're more likely to walk into a random store and find a Batman or Spider-Man toy. When it comes to figuring out which of these is best, it's not as easy as you might think. Both companies have hundreds of fascinating characters, each with their own fanbase who will go out of their way to find the best and most intricate collectibles to round out their collection. Fans of both Marvel and DC tend to favor one over the other, but which is the better company when it comes to creating new and amazing collectibles?
Ultimately, that answer falls to each collector, and seeing as this is a relatively subjective topic, going through some of the best wares of one company might help to place it above the other. For this list, we are focusing on the collectibles crafted by Marvel Comics. The company's bevy of superheroes and villains coupled with its recent foray into movie theater dominance has placed it just beyond DC's reach... at least for now. With that, here are 20 collectibles created from Marvel's greatest characters, scenes, places, and tech that place the House of Ideas one step above the competition. Instead of focusing solely on uber-expensive statues, this list features affordable items, some less-affordable ones, and the things you should only buy if you have a seriously disposable income!
20 MARVEL TRIVIA BOX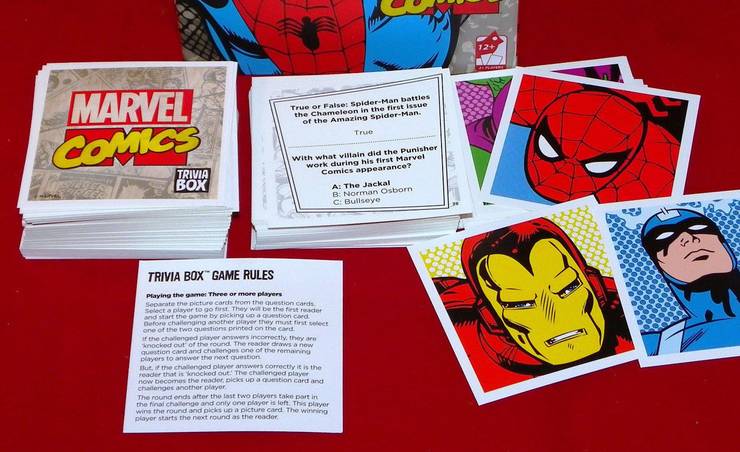 SEE IT NOW: $14
Let's face it, you wouldn't be reading this list if you weren't already a fan of Marvel Comics, right? Marvel knows that well, which is why the company teamed up with Cardinal to create the Marvel Comics Trivia Box. This isn't just a regular game, it's one that only the real True Believers could possibly master as it takes a detailed knowledge of Marvel and its characters to win!
The game is set up for two to four players and features hundreds of questions only the most committed reader could possibly answer! You can pick up your own copy for just under $14 on Amazon, which makes this game a great deal for people who love the books and characters, but it also couldn't hurt to bring in fans of the movies as well!
19 STAN LEE PLATE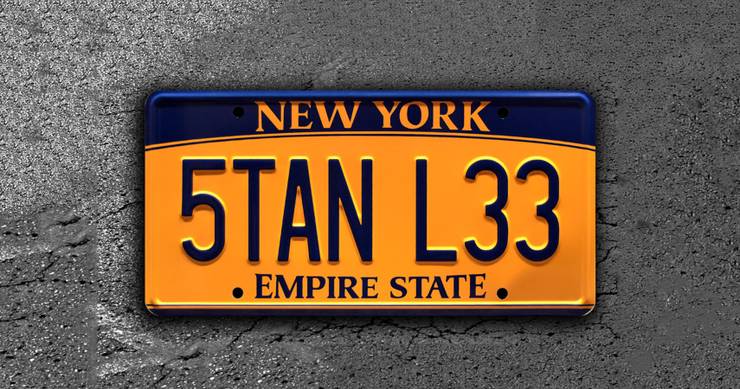 SEE IT NOW: $14
Stan Lee's cameos in Marvel Studios productions, as well as Fox and Sony's Marvel productions, are legendary, but some eagle-eyed fans may have noticed more than the average viewer. For Netflix's The Defenders, Stan "The Man" Lee knocked out some promo work in July 2017 involving himself, a limousine, and this fashionable New York City license plate.
You can have the same plate seen in the promo for the television series for just $14 on Amazon! The plate is metal stamped, embossed aluminum and is screen accurate to the one seen on screen. It is also a standard USA plate (12" x 6") in New York orange and blue style. While you could put this on your car, you may want to check with your local motor vehicles department before doing so…
18 FUNKO POP! MOVIE MOMENTS: THOR VS. THANOS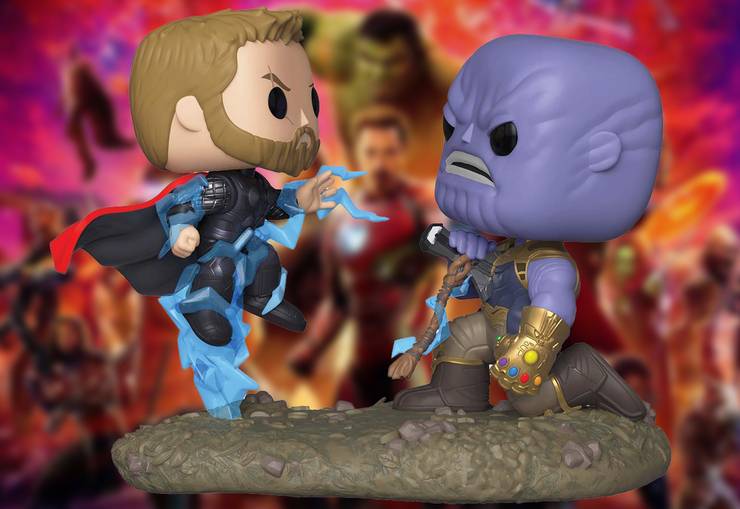 SEE IT NOW: $15
A pivotal moment in the final act of Avengers: Infinity War was when Thor finally came back for round two with Thanos. He came screeching down from the heavens and slammed Stormbreaker into Thanos' chest against the full might of the Infinity Gauntlet. As Thanos said, he really should have gone for the head because as we all know, he wasn't able to stop the snap.
Be that as it may, Funko captured that explosive scene in this glorious Movie Moment Funko Pop! that you can buy on Amazon right now for only $15! That's a great deal considering how well this scene captures both characters in that intense moment. Not only is Thor covered in lightning, Thanos actually has an axe in his chest!
17 INFINITY GAUNTLET ELECTRONIC FIST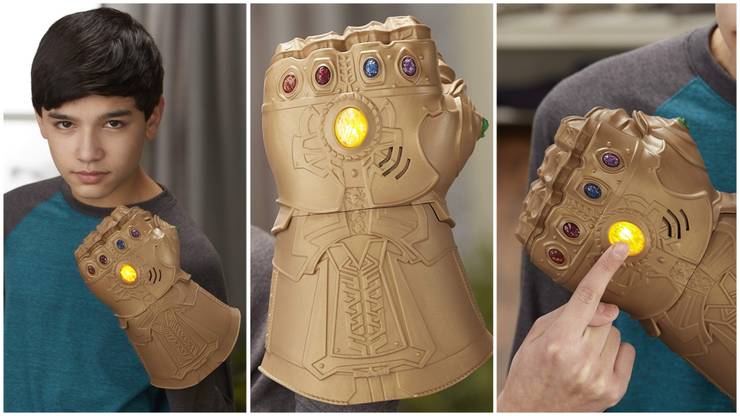 SEE IT NOW: $16
Avengers: Infinity War is one of the biggest movies ever made, and it wouldn't have been much of anything without the likes of Thanos the Mad Titan. Well, Thanos and his stylish glove featuring the Infinity Stones of course. Now you too can snap away half of all existence without a care in the world thanks to this Infinity Gauntlet Electronic Fist based off the movie.
you can illuminate the Mind Stone by pressing on it as seen in the picture, but that's not all this thing does. It also has sound effects and is sized to fit any child's hand. These are great toys, but also a fun collectible for adults. They cost just under $16 on Amazon. Results may vary; glove does not actually destroy half of all life in the universe!
16 MARVEL COASTER SET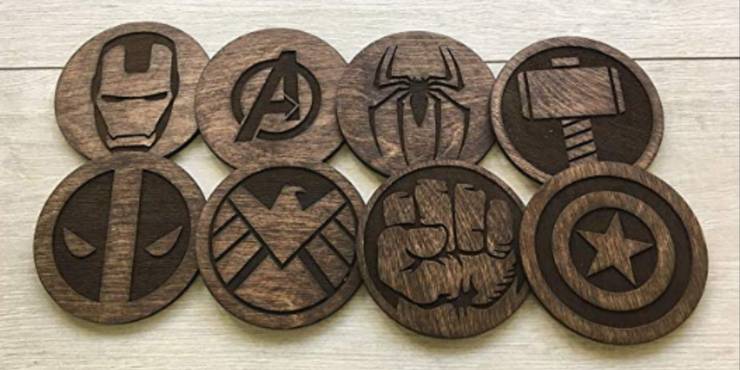 SEE IT NOW: $19
You know those people who are always picking up a drink and moving it over to a coaster like their tabletop is the most precious thing in the world? Now you can be one of those people with what have to be the coolest coasters ever designed! WoodPecStudio has put together eight new wooden coasters featuring some of Marvel's most iconic logos for you to rest your drinks upon.
The set comes with logos and/or characters for Iron Man, the Avengers, Spider-Man, Thor, Deadpool, S.H.I.E.L.D., the Incredible Hulk, and Captain America. You can purchase your very own set for $19 on Amazon, but be prepared to wait a few days for the studio to make them for you.
15 DEADPOOL VS THE WORLD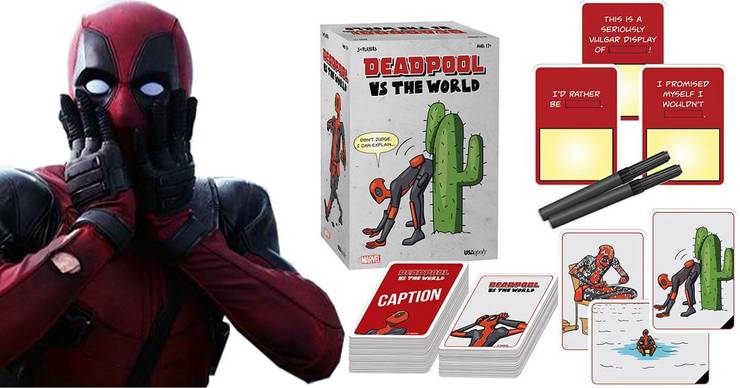 SEE IT NOW: $23
Sometimes, you get a collectible that sits on the shelf and gathers dust, while other times, you get a toy that ends up being eaten by the dog and left in the yard. Then, there's the time Marvel teams up with USAopoly to create a game that can entertain collectors and their friends for hours. Deadpool Vs. The World is one such game. This party game is highly interactive and fun for everyone... so long as they're old enough!
Deadpool Vs. The World is a party game that includes 100 custom Deadpool illustrations in strange and unusual circumstances. Players write on the cards with the included erasable markers to create funny situations. The game is good for three or more players and can be purchased on Amazon for $23.
14 IRON MAN MOUSE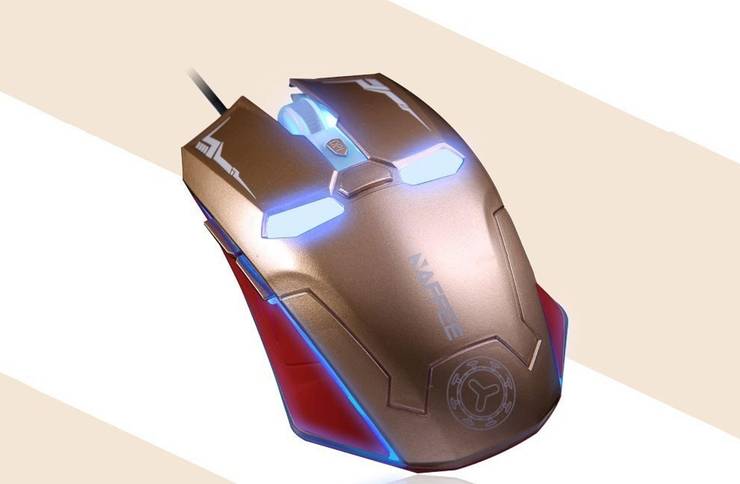 SEE IT NOW: $13
Just because you can't fly around the world like Iron Man, that doesn't mean you can't game like him. Well, maybe not, but you can at least look like you're gaming like Tony Stark's greatest creation with this amazing Iron Man wireless gaming mouse from Taonology. The mouse features the character's classic look along with two illuminated eyes to make it appear as realistic as possible.
You may not notice the realism while gaming with this plug and play mouse with a 2.4G USB Nano Receiver. It's compatible on anything that runs USB mice, features a programmable button, and sensitivity adjustments of 1000, 1200, 1600, and 2400 DPI. You can get your very own on Amazon for just $13!
13 BABY GROOT RAVAGER OUTFIT EXCLUSIVE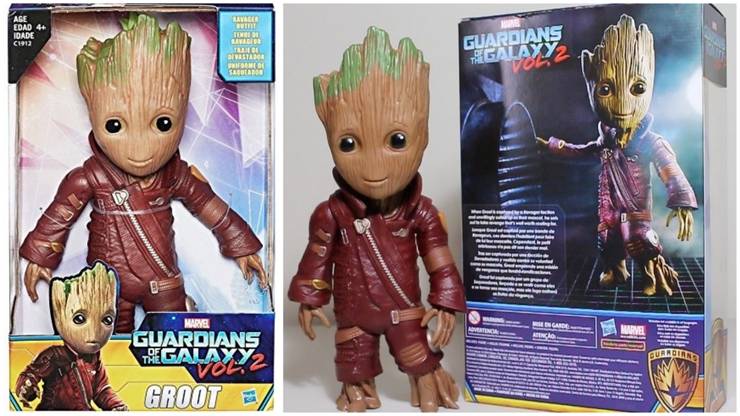 SEE IT NOW: $20
It's hard to find someone who didn't think Baby Groot was adorable as he could possibly be in the Ravager outfit from Guardians of the Galaxy Vol. 2, which may be why Marvel teamed up with Hasbro to create this great collectible. Baby Groot with the Ravager clothes is an adorable 10" figure, which looks to be about the same size as the character from the film.
Groot's arms can move about with some movement on the wrists and the head. These were originally sold as a WalMart exclusive, but they can be picked up online in numerous places. Considering how impressive this collectible is, it isn't very expensive. You can find them on Amazon for just under $20.
12 THOR MEAT TENDERIZER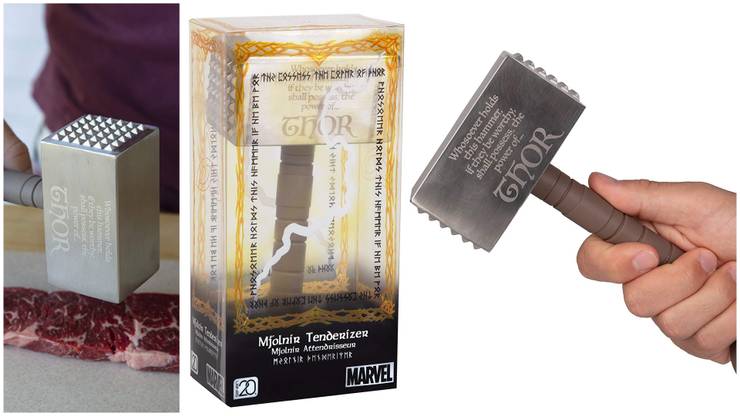 SEE IT NOW: $25
One of the things Thor is best known for is his hammer, Mjolnir. While it was destroyed in the MCU, he still wields his hammer off and on in the comics, and now you can too! Granted, you won't be smiting your enemies with this version, but you sure can tenderize some meat with this handy little kitchen utensil fashioned after the mythical weapon!
When you think about it, it actually makes a lot of sense that Marvel would release a meat tenderizer based off a mythical hammer. The tool was already there waiting for Marvel to make it, and if the customer reviews on Amazon are any indication, it's a pretty useful tool any cook must have. You can pick them up for $25… if you're worthy, that is.
11 BLACK PANTHER - SLASH & STRIKE FIGURE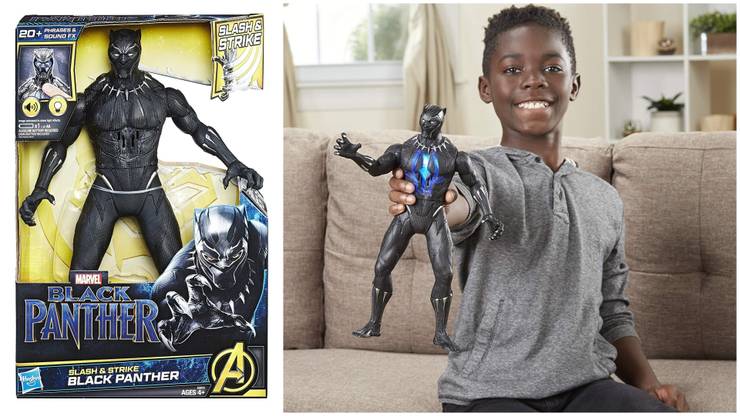 SEE IT NOW: $27
Black Panther was a huge success when the film was released, and it ultimately went on to earn Marvel Studios three Academy Awards making it the first MCU film to attain that honor. Unsurprisingly, Marvel went ahead with a broad marketing campaign that took advantage of the character's popularity and fashioned some impressive toys alongside the company's longtime partner, Hasbro.
This fully-articulated Black Panther stands 13" in height and features 20 phrases and sound effects with accompanying light-up chest features and eyes that glow blue. More than that, it has a swinging arm for slashing effects, is well made, and despite its relatively low price, makes for a great collectible. You can purchase these on Amazon for a little under $27.
10 FUNKO POP! CAPTAIN MARVEL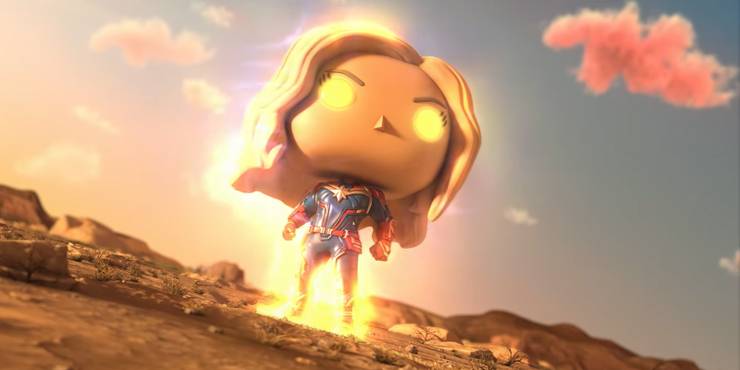 SEE IT NOW: $11
Captain Marvel has stormed onto the silver screen and like the character's mantra, the film is going higher, further, and faster than the competition. It should come as no surprise to learn that Marvel is capitalizing on the film's success by licensing the woman Kevin Feige has said is the strongest character in the MCU out to various collectible markets.
One of the best (and least expensive) options available are Funko's popular Pop! line of toys. There are several options when it comes to picking up a Captain Marvel with this one being one of the most popular. They can be purchased on Amazon for less than $10 but like all Pop! toys, expect it to increase in value.
9 HULK FISTS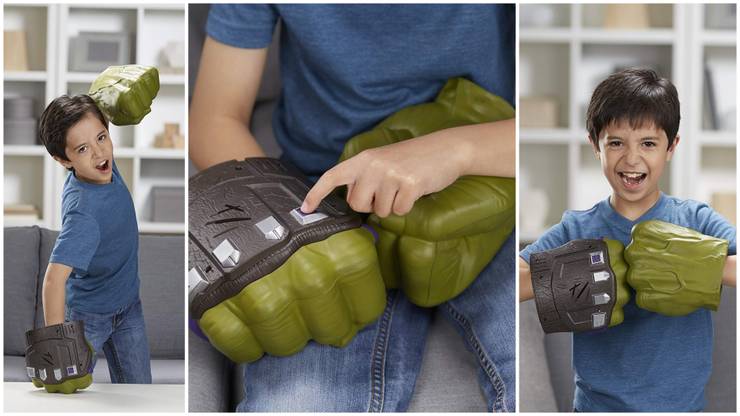 SEE IT NOW: $60
Have you ever been so mad, you just wanted to Hulk out and punch something? Everybody has, and Marvel knows it, which is why the company has been putting out killer Hulk fists for years. One of the more recent additions to that line are these Thor: Ragnarok Hulk Smash FX Fists based on the character's depiction in the smash 2017 movie.
These Hulk Fists are motion activated and feature numerous sounds that let you smash just like the Hulk! The set comes with a left and right fist and is sized to fit most children's hands aged five and up. You can pick up your very own pair for $60 on Amazon, but please don't actually smash your little brother with these… even though you may really want to!
8 ART OF MARVEL STUDIOS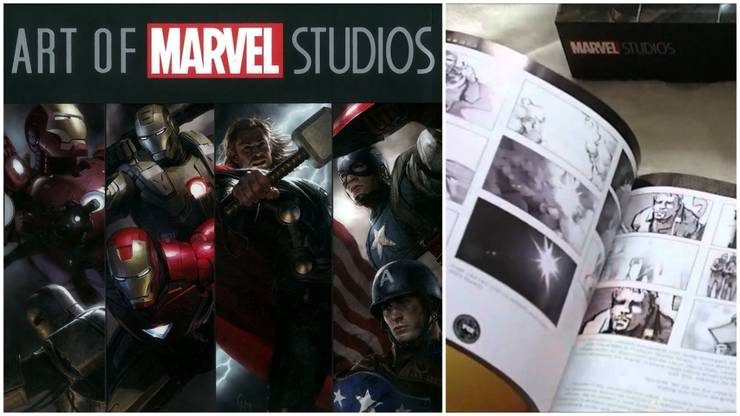 SEE IT NOW
While there are countless books detailing the impressive artwork of Marvel Comics' 80+ year history, there are far fewer documenting the Marvel Cinematic Universe. That's a shame considering the level of detail that goes into creating the imagery seen on screen — there are artists who composited every piece of Iron Man's armor as well as just about everything else seen on screen, and this book captures it all!
The Art of Marvel Studios offers an insider's look into the making of the movies that have catapulted Marvel Comics' characters well into the mainstream. This gorgeous tome packs in a whopping 912 pages and can be purchased on Amazon for just under $80, but if you want one, you should act quickly as these sell out soon after they are brought back into stock.
7 METALS MARVEL IRON MAN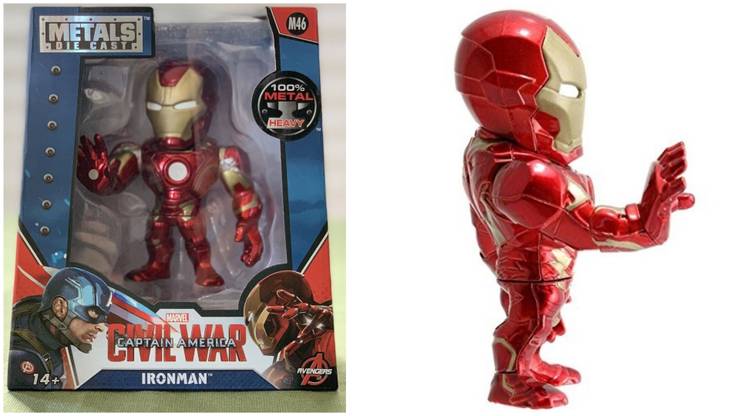 SEE IT NOW: $13
Not all toys are made of plastic these days thanks to the Metals Die Cast 4" series featuring some of Marvel's greatest characters. Like Funko's Pop! bobbleheads, there are dozens of variations on this theme with the Iron Man being one of the more popular on the market that isn't so expensive it might turn more frugal collectors away.
The Iron Man (M46) made to promote Captain America: Civil WarAmazon features ole' Shell Head in a pose showcasing his impressive Repulsor ready to fire. The figures are made of die-cast metal so they weigh in at nearly half a pound and are well crafted. While some of the figures in the line average $35 or more online, you can still pick up Iron Man on for $13.
6 FUNKO POP! COMIC MOMENTS - DEADPOOL VS. CABLE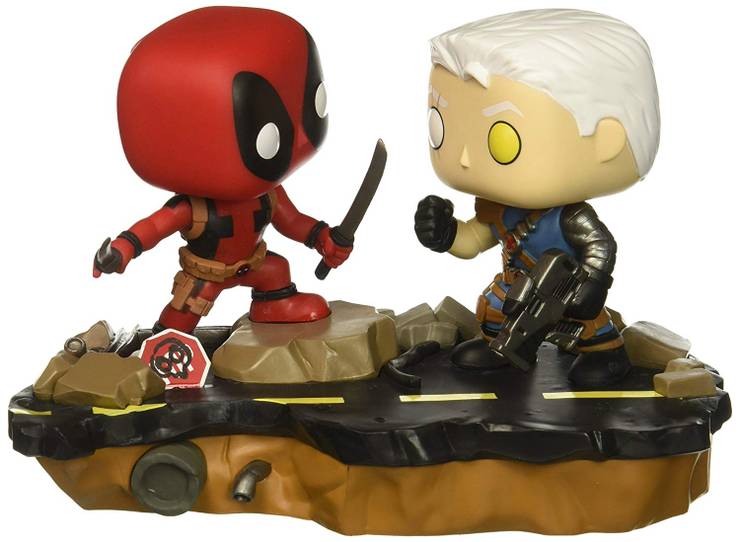 SEE IT NOW: $19
Typically, a Funko Pop! is a singular character, but every once in a while, the company creates a special scene either from the comics or a movie. This one is from the latter given that it was clearly inspired by Deadpool and Cable as they battled one another in Deadpool 2. The setting features both characters atop a broken piece of roadway covered with debris.
You can usually expect to pay anywhere between $10 and $15 for a single Pop!, but this set includes both characters for less than you might think. You can find these on Amazon for just under $19, which makes this particular set of characters a great deal for any collector!
5 DIAMOND SELECT VENOM PVC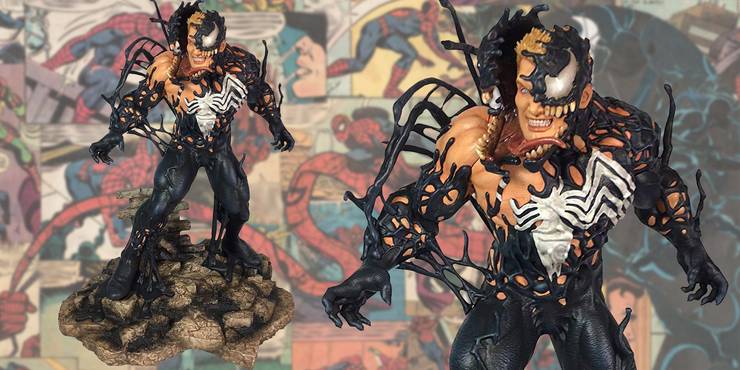 SEE IT NOW: $36
As any collector of fine PVC figures will tell you, Diamond Select has been making impressive collectibles for years. Some of the company's best work has been of Venom as can be seen with this impressive 9" figure depicting Eddie Brock/Venom standing on some rubble as the symbiote moves about Brock's body. Even though it's a static figure, you can almost see it moving thanks to the intricate detail.
This scene is meant to show the two merging into one being, and it does it rather well. While figures like this typically cost a ton of cash, you can actually find this Venom for a reasonable price on Amazon. These regularly sell for around $36 on the online retailer, but they are occasionally less expensive from other sellers through Amazon's reseller market.
4 LEGO GUARDIANS OF THE GALAXY STARSHIP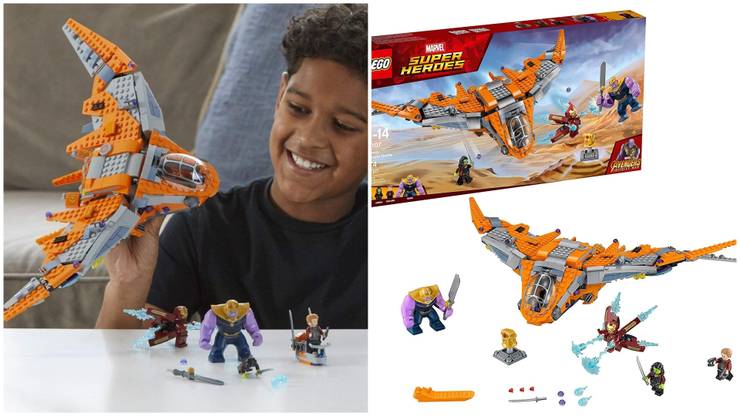 SEE IT NOW: $56
Spider-Man doesn't get to have all the fun when it comes to playing with LEGOs. The Guardians of the Galaxy also get to have their turn with this awesome Ravager spaceship made for the LEGO Marvel Super Heroes set intended for players aged eight to 14. This impressive building kit comes with a total of 674 pieces and features far more than just a spaceship.
Also included are a Star-Lord, Gamora, Thanos (with Infinity Gauntlet), the Infinity Stones, and a sword. You can put them all together and try to save the world... or destroy it depending on which character you want to play with. The set retails for around $56 on Amazon and makes for a fun toy or impressive collectible once it's put together and displayed.
3 IRON MAN HELMET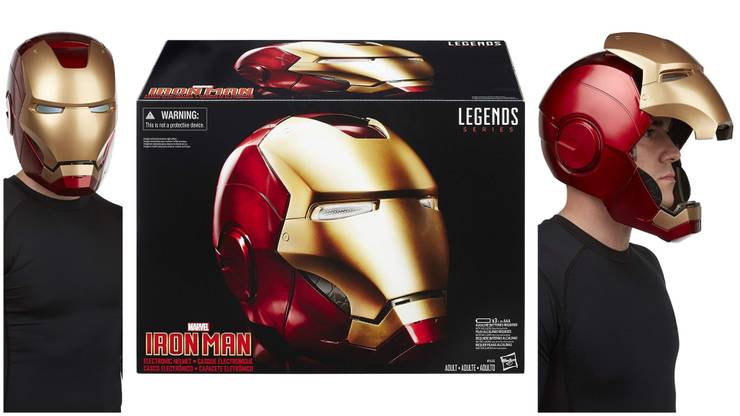 SEE IT NOW: $99
It took nearly killing Tony Stark in the desert to get him to create the Iron Man armor, but you won't have to go through any of that torture if you want to get your hands on your very own Iron Man helmet! Marvel Legends' Iron Man Electronic Helmet is a movie prop=worthy piece you can own for the relatively low price of $100 on Amazon!
The helmet is beautifully crafted and features 2 L.E.D. light-up eyes, electronic sound effects, and a detachable magnetized faceplate just like the one seen on Robert Downey Jr. in the films. Before you ask, yes, you can wear this thing (and you absolutely should), though it looks amazing displayed on a shelf as well.
2 AVENGERS HERO INVENTOR KIT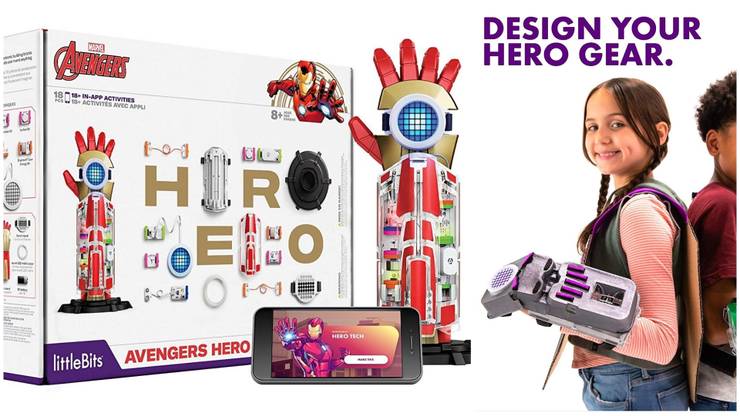 SEE IT NOW: $150
This one isn't so much a collectible as it is an impressive and amazing educational toy. Granted, it can be displayed as a collectible so we felt ok including it in this list. The Avengers Hero Inventor Kit is designed for kids aged eight and up. It enables a child to create an actual wearable piece of tech they put together themselves using electronic building blocks, an LED Matrix, an authentic Marvel Sound Effects bit, stickers, and much more.
The kid ultimately brings the child to create a wearable gauntlet in multiple styles and is a great way to bring them into a STEM program. These are pricey, but considering the value of education and fun they provide, the $150 you would have to pay over at Amazon to get one isn't much at all.
1 HULKBUSTER IRON MAN ARTFX+ STATUE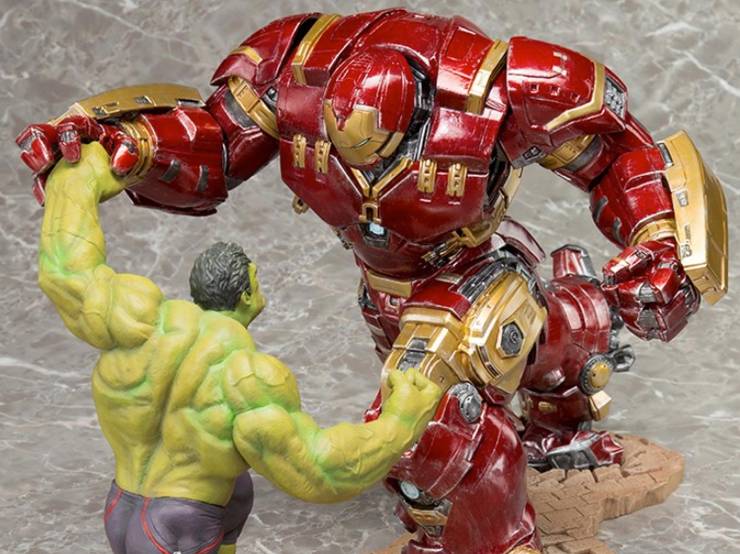 SEE IT NOW: $325
While we could have chosen any number of statues for our top pick (There are hundreds, if not thousands of them), we decided to go with one of our all-time favorites. Tony Stark's impressive Hulkbuster Armor as depicted in Avengers: Age of Ultron by Kotobukiya is a beautifully detailed and film-accurate rendition of the character sculpted in 1:10 scale atop a special display base.
This artfully crafted and individually painted ArtFX+ isn't the most expensive of its kind on the market, but that doesn't mean it won't set you back. These cost $325 on Amazon, but thanks to the company's other items, you can pair it with the Hulk for only $120, and don't you think those two really do need to be put together?
We hope you like the items we recommend! Screen Rant has affiliate partnerships, so we receive a share of the revenue from your purchase. This won't affect the price you pay and helps us offer the best product recommendations.
NextFast X: 10 Hilarious Comments The Fast & Furious 10's New Name, According To Reddit
About The Author