When 90 Day Fiancé fans first heard of Deavan Clegg's new boyfriend Christopher "Topher" Park, all they wanted was to know more about him. Having shockingly separated from Jihoon Lee, Deavan was revealed to be dating Topher, an actor based out of Los Angeles, as per the internet. But now that the 90 Day Fiancé star has become Instagram official with her man, she's revealed that Topher is not really an actor. Deavan went live on her Instagram with Topher and answered a few fan questions including details about his actual job.
Jihoon and Deavan are all set to return to reality TV screens tonight with the mid-season premiere of 90 Day Fiancé: The Other Way. The episodes are supposed to pick up from Deavan looking forward to her new life in South Korea with Jihoon, Taeyang, and Drascilla at their new rented apartment. However, the supertease for season 2 showcased Deavan accusing Jihoon of cheating, and off-screen, news of them breaking up confounded the 90 Day Fiancé community. Deavan had been staying in the USA from almost June, having reportedly been brought back by TLC themselves after her child abuse claims against Jihoon. Yet, Deavan had also moved on with a new man, Topher Park, who she soon started talking about on her Instagram account. Topher too posted a bunch of steamy pictures with Deavan and made an appearance in the family's YouTube videos with Taeyang and Drascilla. But, turns out, there's still a lot that 90 Day Fiancé fans do not know about "Chris."
It was reported that the multi-talented Topher was a singer, guitarist, and actor, according to information from his Facebook page. But Deavan, took her boyfriend LIVE on IG on Saturday morning to have fans ask him some burning questions. The 90 Day Fiancé star revealed that Topher also goes by with the name "Chris" and is 27 years old. Deavan, 23, who was on her way to Topher's friend's wedding with him, conveyed a fan's question that asked, "How many movies have you been in?" and he replied, "none." Deavan revealed, "Chris has not acted in over five years. So, all those articles saying he's an actor… it was five years ago for school projects." Topher quickly answered that he crunches numbers, and Deavan added that he's actually an accountant "in Beverly Hills."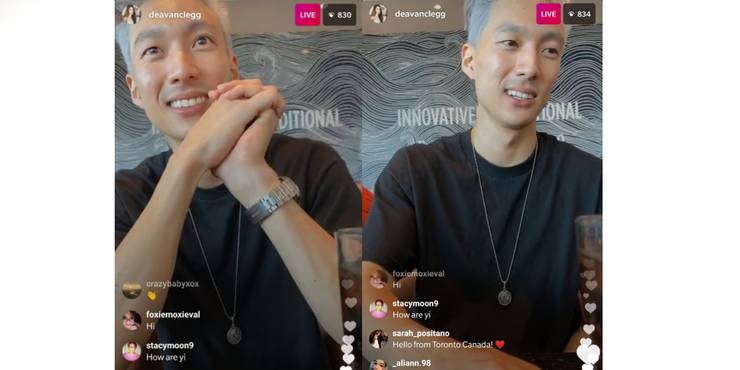 Topher who Deavan says she met via a mutual friend and comes from the same town as she does mention on his LinkedIn that he currently works at Citrin Cooperman, a full-service assurance, tax, and business advisory firm in Beverly Hills, CA. Topher has been with the company since January and also leads his digital magazine Toph&her as an editor-in-chief. His 90 Day Fiancé star girlfriend had announced that she will be featuring in one of his issues soon and that Topher will be helping her revamp her YouTube channel as well.
Deavan's YouTube channel she previously owned with Jihoon, was recently discussed amongst fans for its content. Deavan had uploaded videos from both Korea and the States, where she's seen talking about Jihoon being busy with a new job in June. 90 Day Fiancé fans questioned the timeline of their break-up but Deavan claims that she was "asked several times to lie by the network make it seem like everything was okay so she wouldn't get sued." But, possibly because Deavan has now been uninvited from the Tell All episode for 90 Day Fiancé: The Other Way by TLC, she has been open about sharing most of her secrets on social media. However, since fans already know the outcome of Jihoon and Deavan's relationship drama due to their Instagram posts and stories, how will 90 Day Fiancé make watching their crumbling love story on screen, worthwhile?
90 Day Fiancé: The Other Way airs Sundays at 8 pm EST on TLC
Source: Topher Park/Facebook, Deavan Clegg/Instagram, Topher Park/LinkedIn
90 Day Fiance: Hamza Shares Video Of New Baby's Car Seat In IG Video
About The Author