Speaking in a Q2 financial report, EA CEO Andrew Wilson hinted at the possibility of Battlefield receiving a free-to-play entry in the future. The long-running shooter series has dabbled in the free-to-play space previously and will dive in headfirst once F2P game Battlefield Mobile hits the market in 2022.
Battlefield's past free-to-play outings came in the form of Battlefield Heroes (2009) and Battlefield Play4Free (2011), both of which launched exclusively on PC. DICE partnered with Easy Studios to develop Battlefield Heroes, a third-person shooter that boasted purchasable Battlefunds to redeem XP and a range of other in-game extras. Easy Studios shuttered the project's servers in July 2015, the same time at which Battlefield Play4Free went defunct. DICE and Easy Studios re-teamed for the latter game in 2011, delivering a first-person shooter experience built on a modified version of Refractor 2, the game engine that powered Battlefield 2 and the Heroes title. Given the popularity of Call of Duty: Warzone, it would seem EA has once more taken an interest in the free-to-play model for its flagship military shooter.
In a quarterly earnings report transcribed by Seeking Alpha (via MP1st), EA CEO Andrew Wilson said it "would make sense" for the Battlefield franchise to eventually revisit a free-to-play model. "I think when we look at our Battlefield franchise today with the knowledge that it probably makes sense to have a free-to-play component to that overall ecosystem in the future," he commented. At present, DICE's efforts remain centered on reinventing the franchise with Battlefield 2042. Next steps for the brand include launching Battlefield Mobile, a platform the EA exec believes will serve "tens of millions of players." Once the companies meet these goals, Wilson thinks free-to-play could have its place in the franchise, though this particular model isn't something EA and DICE are focused on now.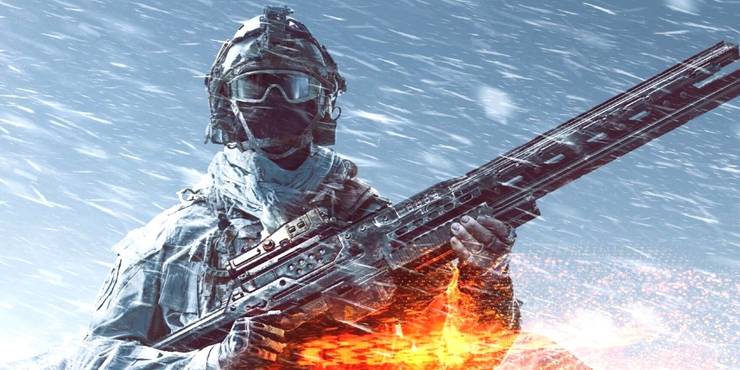 Wilson's comments indicate a potential Battlefield free-to-play experience won't come to fruition any time in the near future. Still, it's something EA has actively taken into consideration, which hardly comes as a surprise. Call of Duty: Warzone continues to print money for Activision, but EA knows well the profitability of the free-to-play model. The publisher needs only look at its very own success story with Respawn Games' Apex Legends.
This past April, Apex Legends reached 100 million players worldwide. And the aforementioned Q2 quarterly report revealed the game's revenue continues to soar, so much so that it's well on its way to accruing $1 billion annually. A free-to-play Battlefield may not be the focus now, yet reason, and potential dollar signs, suggests EA won't let the shooter sit on the sidelines in this regard for very long.
The next Battlefield entry, Battlefield 2042, hits PC, PS4, PS5, Xbox One, and Xbox Series X|S on November 19.
Source: Seeking Alpha via MP1st
Marvel's Avengers Dev Denies The Existence Of A Long-Term Roadmap
About The Author