In 2010, Cartoon Network debuted Regular Show, a delightfully off-beat animated comedy about a blue jay named Mordecai and a raccoon named Rigby who just want to slack off. Since its premiere, the occasionally existentialist TV series has been a consistent hit, striking a chord with both its key kid demographic and adult audiences. The show even racked up a Primetime Emmy in 2012 for its season 3 episode "Eggscellent".
Despite its success, Cartoon Network has reminded us that all good things must come to an end - having now announced that Regular Show's eighth season would be its last. After more than 250 episodes, the cast and crew has agreed to come together for one more season before the show finally concludes in early 2017.
Regular Show, which began as a CalArts student project for creator J. G. Quintel, features the vocal talents of Mark Hamill (Star Wars) and William Salyers (Mass Effect, Fallout 4). The show is a close-knit affair, with creator Quintel also acting as executive producer and lending his voice to Mordecai. In a Variety article, Quintel had the following to say about his pet project's end:
"Making Regular Show has been so much fun. We got to tell all of the stories we wanted to tell, and making the choice to go out exactly how we want to go out. We're so proud and excited for people to see how we're wrapping things up in a big, big way. We're bringing everything full circle."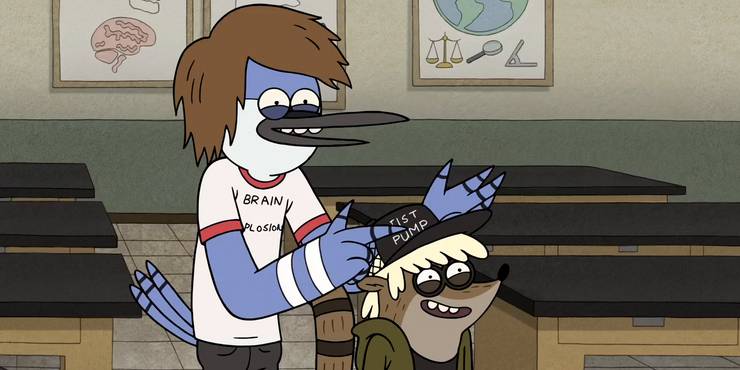 Since Regular Show already debuted its own full-length TV movie last year, it'll be a treat for fans to see just how "big" the series wrap-up will be. And, while it's always sad to see a long-running show finally call it off, it's nice to know that the cast and crew behind Regular Show's stoner comedy-esque shenanigans are content to end things this way. In the perpetually immortal words of Mordecai, "You gotta be responsible sometimes."
The show will leave behind network companions like Steven Universe and Adventure Time, the former of which has received recognition for being Cartoon Network's first female-created series. Though Regular Show fans will undoubtedly miss their daily Mordecai-and-Rigby fix, they at least have more quality programming to look forward to, especially as the network prepares to debut Justice League Action and a revamped Ben 10.
Regular Show season 8 premieres Monday, Sept. 26 at 8 p.m. on Cartoon Network. Episodes will air on weeknights through January 2017.
Source: Variety
Netflix Needs To Kill Binging To Stop Its Inevitable Decline