Clint Eastwood is back in Western mode in a new image from Cry Macho. The legendary Eastwood's 38th feature film as a director sees him pulling double-duty as both helmer and star.
There was of course a time when Eastwood seemed to have retired entirely from acting in his own films, preferring instead to remain behind the camera. Indeed after starring in Gran Torino in 2008, Eastwood did not appear in one of his own films again until 2018's The Mule. But the acting bug must've bitten the Hollywood legend all over again because 2021's Cry Macho sees him again taking on the lead role in one of his own films. Based on a novel by N. Richard Nash, the neo-Western movie stars Eastwood as a washed-up rodeo rider and horse breeder who takes a job bringing a young man back from Mexico to live with his father in the United States. This leads to a mentoring opportunity for the older man, who is himself in need of redemption. Eastwood's young charge is played by newcomer Eduardo Minett.
Minett's character and his much older mentor Eastwood are indeed front-and-center in a new Western-flavored Cry Macho image released by Fandango. See the picture in the space below: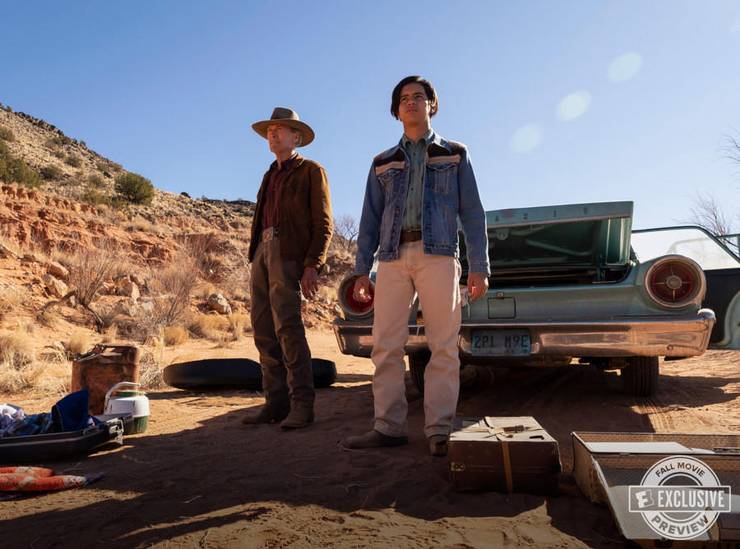 Cry Macho has indeed had an interesting development history in Hollywood. Early attempts at adapting the novel had Burt Lancaster and then Roy Scheider taking on the lead. Later Pierce Brosnan was attached to the project. Most intriguingly of all, Arnold Schwarzenegger was set to play the film's retired rodeo star but the project never came to fruition thanks to Schwarzenegger's term as California governor and later sex scandal. Eastwood himself was originally tapped to star in Cry Macho in 1988 before opting out to appear in the Dirty Harry sequel The Dead Pool instead.
Eastwood could not have realized it back in 1988 but he would eventually get his chance to both direct and star in Cry Macho. And he only had to wait thirty-three years to make it happen. The movie's story of an older man seeking redemption and a young man in need of a mentor obviously sounds right up Eastwood's alley as both a director and actor. The concern of course is that a movie co-starring Eastwood with a young Mexican actor could be a recipe for some cringey moments. Needless to say, Eastwood has in the past been accused of some insensitivity when it comes to matters of race. Hopefully Cry Macho will focus on the relationship between the two main characters and not veer off course into Eastwood being grouchy and making bad jokes as he sometimes does when he's trying to pander to his older fanbase. Cry Macho releases on September 17, 2021 both in theaters and on HBO Max.
Source: Fandango
James Gunn Helped Shape Guardians' Roles In Thor: Love & Thunder
About The Author