Concept art for Cyberpunk 2077 unveils the whole of the Heywood Neighborhood of Night City. CD Projekt Red's newest RPG is slated to release on November 19, 2020 on PC, PlayStation 4, and Xbox One, with PlayStation 5 and Xbox Series X versions to launch in 2021. The game is played from a first-person perspective; players take control of a mercenary named V, whose appearance, voice, and background are all customizable. Cyberpunk 2077 takes place in Night City, which is comprised of 15 districts.
The game entered pre-production in 2016 and has been the primary focus of CD Projekt Red since the company finished production on The Witcher 3 — Blood and Wine. Cyberpunk 2077's original release date was April 16, 2020 but was delayed to September 17 and now November 19, 2020. As anticipation for the game has risen, other mediums ready themselves to bring Cyberpunk 2077 to life. Netflix is preparing to stream a Cyberpunk 2077 anime series, titled Cyberpunk: Edgerunners.
In a CD Projekt Red tweet, Cyberpunk 2077 concept art unveils the Heywood Neighborhood of Night City, player character V's initial home and the game's starting area. The art shows the clustered metropolitan area complete with towering buildings, winding roads, train tracks, colorful lights coming from the buildings, and what appears to be docks jutting out from the city limits over some pristine water. City occupants also make an appearance, dressed in a diverse array of colorful clothing, with one citizen showing off his cybernetic hands.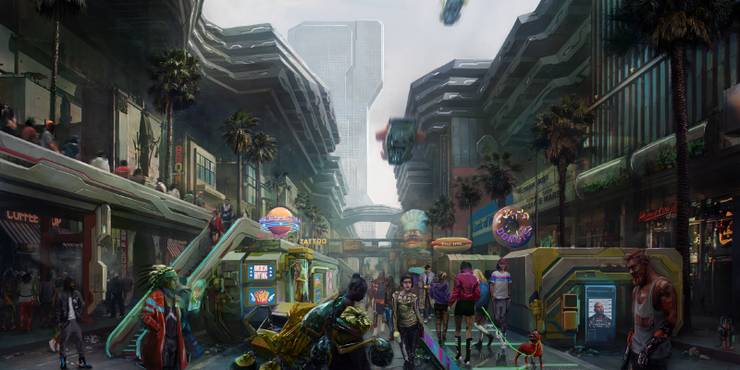 Commenters have expressed overwhelming support and awe for the concept art, many voicing their excitement for getting their hands on the game. However, some fans is less than optimistic about the concept art, remaining unconvinced the game will release in November and predict the game will be delayed again due to many bugs and glitches they claim are still prevalent in the gameplay. However, no official information has been provided to confirm the suspicion of another delay.
Cyberpunk 2077 nears its launch, with just under four months remaining before it's supposed to hit the shelves. Concept art always sheds the best light possible on a game's design, giving fans a glimpse of the developers' vision. If nothing else, concept art conveys artistic talent on the part of creators, even if the final product for which the images were created doesn't live up to promises established by the artwork. Cyberpunk 2077 will release in a maelstrom of high expectations and anticipation, and its adherence to the standards set forth by all its concept art, as well as how much CD Projekt Red minimized bugs and glitches, will determine if the game was worth the eight years of waiting and the immense amount of hype it generated.
Cyberpunk 2077 will be available for PS4, Xbox One, Stadia, and PC on November 19, 2020, and will launch on PS5 and Xbox Series X in 2021.
Source: CD Projekt Red
90 Day Fiancé: What Memphis & Hamza's Leaked Texts Reveal About Breakup
About The Author