Teen Titans GO! To the Movies is a kid-friendly riff on the current influx of comic book movies, but does it take the time to poke fun at the now-popular trend for superhero films to include a post-credits scene?
This movie is based on the Cartoon Network series Teen Titans GO!, which has been on the air for five seasons now. In it, Robin and the team make it their mission to find themselves a nemesis so that Hollywood will take them seriously and produce a Teen Titans film. There are countless nods and references to superhero movie tropes throughout the brisk running time, so it certainly wouldn't be out of the question for the filmmakers to plant some seeds for future installments in the series.
Related: Stan Lee Makes A Cameo in Teen Titans Go! To the Movies
In what shouldn't really come as a surprise, there are two stingers in the Teen Titans GO! To the Movies credits. The first (which fans of the 2003 television series will greatly enjoy) is a mid-credits scene, while the other happens at the very end and serves as the final payoff to one of the movie's running gags. Those who enjoy the Teen Titans soundtrack will find waiting for these sequences easier, since the catchy songs from the film play as the credits roll.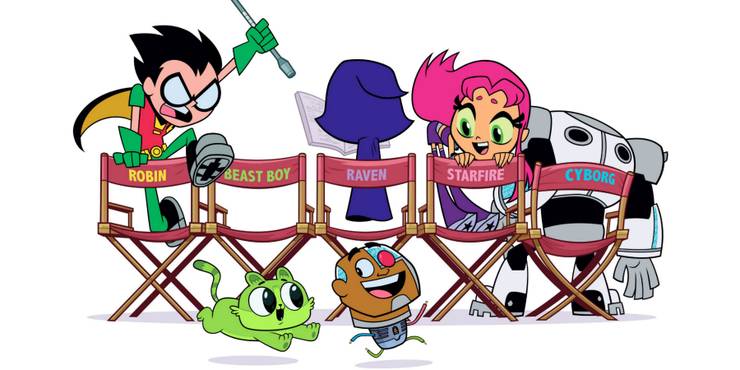 Stingers weren't a new concept when Nick Fury first told Tony Stark about the Avengers Initiative in 2008's Iron Man, but over the last decade, post-credits scenes have become widely associated with superhero movies. These days, the Marvel Cinematic Universe typically employs two; usually, one that sets up a future movie and another that's more humorous in intent. Even DC is riding the wave, putting two buttons in Justice League. Not every comic book movie utilizes them (James Mangold had some blunt words to explain why he didn't include on in Logan), but more often than not, viewers know to expect a little extra when they sit down for a superhero movie. Since part of the Teen Titans GO! brand is commenting on the genre, it's only fitting this movie has some additional scenes of its own.
Things could definitely change if Teen Titans GO! To the Movies is a box office hit, but there currently are no plans for followups. Right now, it appears that this is an amusing one-off capitalizing on the current state of superhero films. The Cartoon Network show remains on the air, and there has been no word of it being canceled in the near future. Perhaps the Teen Titans will stay on the small screen and leave the cinematic ventures to their grown-up counterparts.
MORE: Read Screen Rant's Teen Titans Go! To the Movies Review
Will The Joker Be In The Batman 2? Deleted Scene Is The Perfect Set-Up
About The Author