On Friday, August 20, Genshin Impact's Phantom Flow Event begins. While players may be overwhelmed by the amount of new content added to the game recently, especially with the two other events Genshin Impact 2.0 has already brought, the Phantom Flow Event is fairly straightforward.
Players will not have access to the Phantom Flow Event until they have completed the Archon Quest "Ritou Escape Plan" and the World Quest "Chisato's Letter." They also need to reach at least Genshin Impact's Adventure Rank 30. Additionally, this event only runs for 10 days, from August 20 to 30. If new players want to partake, they need to get to Inazuma and complete the first part of the story there as quickly as possible.
The premise of Genshin Impact's Phantom Flow Event is simple: Players need to travel to the challenge spot on their map and complete the challenge for that day. The challenges themselves consist of different enemy types and quantities to defeat in a certain time limit. This is a fairly straightforward concept and one that has been used in the game before - though players should note the event can only be completed in single player, and their World Level does not affect the enemies' difficulty.
Genshin Impact: What Is The Phantom Flow Event?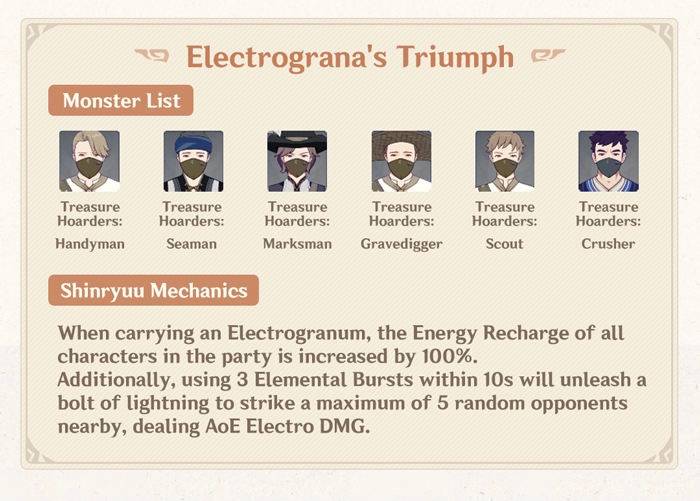 Each Phantom Flow Event challenge has two modes, Shodun and Okuden, and Shodun mode has three difficulties - Normal, Hard, and Extreme. The differences between Shodun difficulties are the number of enemies, the time limit, and how many deaths can occur during the challenge. Completing the Extreme difficulty will automatically complete the other two difficulty levels, which could save players time.
In Normal difficulty, players will have 300 seconds to defeat 15 opponent, and there can be no more than two character deaths.
In Hard difficulty, players will have 240 seconds to defeat 20 enemies, and there can only be one character death.
The Extreme difficulty is, naturally, more challenging, with only 180 seconds to defeat 25 opponents, and there can be no character deaths.
After the Shodun difficulties are completed, Genshin Impact players will unlock Okuden mode. In this challenge, players will need to defeat 20 enemies in 180 seconds, also with no character deaths. They will also need to defeat four Kairagi, the larger samurai enemies found around the Inazuma region.
Each of the challenges has its own theme, enemy list, and Shinryuu Mechanics - aspects of that particular challenge that can be used to complete it more easily. For instance, in the "Electrograna's Triumph" challenge, the Energy Recharge of all characters in the party is increased by 100% while the player is carrying an Electrogranum. Also, when three Elemental Bursts are used within 10 seconds, a bolt of lightning will strike opponents, dealing Electro damage.
In the first seven days of the event, only one challenge will unlock each day, but once seven days have passed, all challenges will be available. The rewards for Genshin Impact's Phantom Flow Event are fairly standard: Players can earn Primogems, Hero's Wit, Mystic Enchantment Ore, Mora, Guide to Transience, Guide to Elegance, and Guide to Light. These are rewarded after finishing each difficulty level and challenge.
Source: miHoYo
Pokémon GO's Mental Health Benefits Detailed In Academic Study
About The Author