George Clooney shares his excitement about Ticket to Paradise, his upcoming romantic comedy film with Julia Roberts. Clooney rose to fame with his role as Dr. Doug Ross on the medical drama ER, which he starred in from 1994 to 1999. Since his early TV roles, the actor quickly crossed over to the big screen and became one of the most sought-after leading men in Hollywood. Clooney is known for his leading roles in a wide array of movies, from Batman and Robin to Up in the Air, Gravity and Coen brothers works like Hail, Caesar!
Ticket to Paradise reunites Clooney and Roberts, who first worked together in the 2001 heist blockbuster Ocean's Twelve and once again in Ocean's Twelve. The two Oscar-winners also starred in 2016's Money Monster, a crime thriller directed by Jodie Foster. The upcoming rom-com, which is still in its last stages of filming in Australia, is set for a theatrical release in October this year. The production suffered multiple delays and prolonged shut-downs due to the new Covid-19 surge in the country. Ticket to Paradise also stars Billie Lourd, Kaitlyn Dever, and Lucas Bravo.
In a recent interview with Deadline, Clooney gushed about his new collaboration with Roberts and said that Ticket to Paradise is "something special." The 60-year-old leading man revealed that the upcoming rom-com will be different, and fans will see a lot of bickering between his and Roberts' characters. According to Clooney, he got excited after reading the script that he immediately called the Pretty Woman actress to ask if she was interested in doing it. Read Clooney's comments below:
"Well, this one is something special. This guy named Ol Parker is a really wonderful writer and director, and he wrote us a script, and I haven't done a romantic comedy really since One Fine Day, and more than that. I've done some sort of snarky ones, you know, and in this one, Julia and I just get to be mean to each other in the funniest way, and the minute I read it I called Julia, and I said, 'Did you get this?' and she said, 'Yeah,' and I said 'Are you going to do it?' and she goes 'Are you going to do it? and I said, 'Yeah if you do it.' So, it was just one of those very lucky things."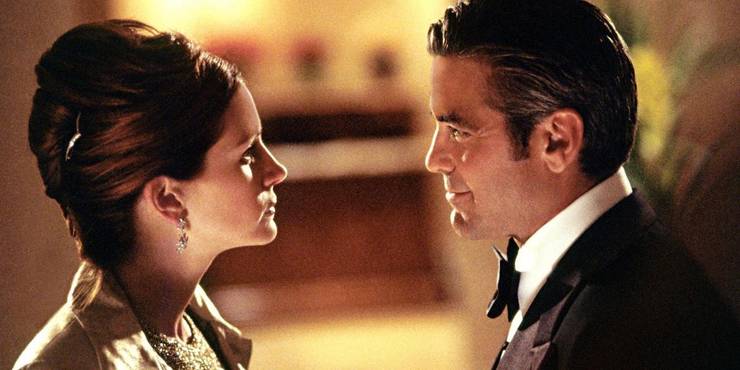 Clooney went on to share that despite the delays Ticket To Paradise has encountered while filming in Australia, the movie is shaping up to be a really fun project. He also described Ticket to Paradise as an "old-fashioned" film, much like the traditional rom-com blockbusters moviegoers have enjoyed in the past. Interestingly, it will also mark Clooney's return to the genre after a long hiatus, since he last starred in a rom-com opposite Michele Pfieffer in One Fine Day in 1996.
There's certainly much to expect from Clooney and Roberts' upcoming team-up. For one, there hasn't been a lot of feel-good films starring Hollywood A-listers in recent years. It will also be exciting to see Roberts back in the genre the actress popularized in the 90s with hits like Pretty Woman, My Best Friend's Wedding and Notting Hill. While the veteran actors, who are also friends in real life, have already starred together in three movies before, Ticket to Paradise will test their on-screen chemistry as romantic partners so many years since the Ocean's films. Hopefully, their combined star power will also translate to ticket sales and make the film a box office success.
Source: Deadline
MCU's Phase 4 & 5 Are Still Missing The Most Important Avengers Villain
About The Author