The first trailer and poster for Jurassic World: Camp Cretaceous season 3 teases a new threat on Isla Nublar. As the world waits for Jurassic World: Dominion to debut in theaters, the beloved dinosaur franchise continues to flourish in animated form on Netflix. Camp Cretaceous first premiered last September, with season 2 arriving with impressive speed in January of this year. Up until now, a season 3 hadn't been confirmed. However, as Camp Cretaceous ended with many dangling plot threads, it seemed likely that the story would continue on somehow.
Jurassic World: Camp Cretaceous revolves around a group of teens who score the once-in-a-lifetime opportunity to attend an adventure camp on Isla Nublar, not far from the titular theme park. The events of Camp Cretaceous intersect with those of the 2015 film Jurassic World, and the characters are soon left to fend for themselves as the dinosaurs break out of containment and run amuck. Camp Cretaceous season 2 ended with the teens successfully protecting the dinos from big game hunters Mitch (Bradley Whitford) and Tiff (Stephanie Beatriz), yet losing their one hope of leaving the island.
Their story will continue with Camp Cretaceous season 3, which will officially arrive on Netflix on May 21. The first trailer and poster for the 10 new episodes have been revealed, and they tease the emergence of a terrifying new threat. Additionally, it's been confirmed the entire main cast - Paul-Mikél Williams, Jenna Ortega, Ryan Potter, Raini Rodriguez, Sean Giambrone, and Kausar Mohammend  - will return. Check out the teaser and poster below.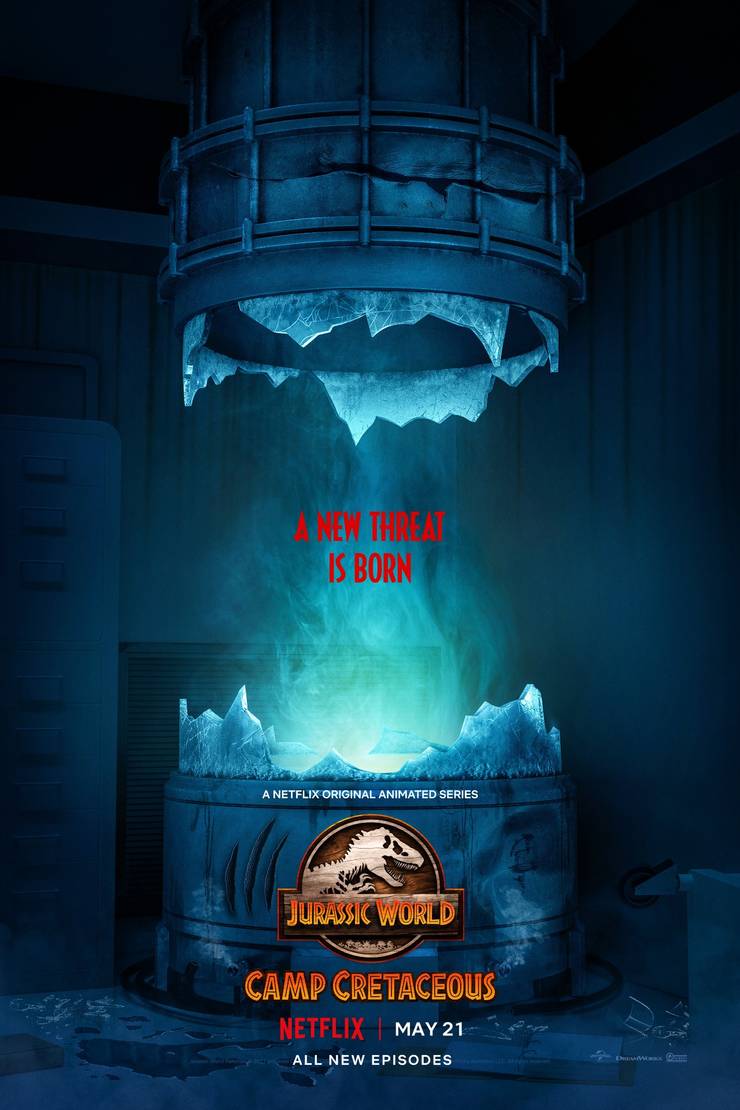 The trailer doesn't reveal much, but it does confirm the kids will be facing a new, dangerous dinosaur. Camp Cretaceous season 2 saw the island's electricity get knocked out, and an unseen dinosaur was let out of cryo-freeze. Based on the prominence of the broken chamber in both the poster and the teaser trailer, it's clear whatever was in there (perhaps a predecessor to Jurassic World: Fallen Kingdom's Indoraptor?) will be hunting the main cast of Camp Cretaceous. This mystery dinosaur has the potential to further tie the series to the main Jurassic World films, so fans might have to pay close attention to it whenever it makes its first appearance. The trailer provided a quick hint of what's in store by showing the dino's eye.
Other lingering plot threads Camp Cretaceous season 3 has to deal with include the emergency beacon they sent out and the general issue of the teens being stranded on the island. The events of season 3 just might lead into Fallen Kingdom, or could at least set up the action to come. Either way, it sounds like this next chapter of Jurassic World: Camp Cretaceous is going to be just as eventful as what came before.
Jurassic World: Camp Cretaceous premieres on May 21 on Netflix.
Source: DreamWorks
Key Release Dates
Jurassic World: Dominion (2022)Release date: Jun 10, 2022
The Conners Brought Back Roseanne's Secret Weapon
About The Author