Team SCU, a dedicated group of Metroid Primefans, is remaking the 2002 GameCube title in 2D, and a playable demo is finally available after . Since Nintendo's announcement in 2019 of a restart on Metroid Prime 4's development for the Switch, there have been very few updates in the Metroid world. The last Metroid game released was in 2017, for the Nintendo 3DS.
Metroid Prime is a 3D first person action-adventure game first released on the Nintendo GameCube in 2002, and it was an overwhelming critical and commercial success. To date, it is the seventh best selling GameCube title, with over 2 million units sold. The fourth Metroid Prime title was announced at E3 2017, to be developed under Bandai Namco - not Retro Studios, the original developer of the Metroid Prime trilogy. Since then, Nintendo has been tight lipped about Metroid Prime 4, other than announcing that the development of the game would restart under Retro Studios instead in 2019. Fans eager for updates have made comparisons of Metroid Prime 4 to FromSoftware's Elden Ring, a game which (although likely not similar in genre) is also known for its lack of updates for an eager fanbase. 
First reported by NintendoLife, screenshots of Prime 2D were posted on April Fools' Day and were thought to be a joke, until it was reiterated a day after that it is, in fact, a real demo ready to be played for free. The dedicated group of Metroid fans known as Team SCU began its project in 2004 and have slowly made progress since, with many using the skills they learned on the project to enter the games industry. Built on their own engine, the demo was made possible with the help of hundreds of volunteers creating resources for the project.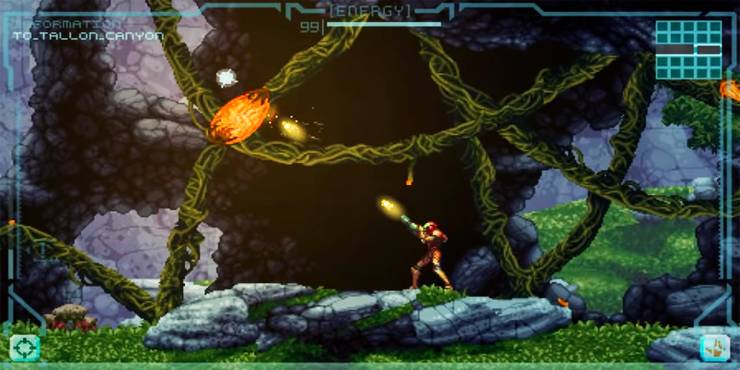 The demo begins with a statement by Team SCU, stating, "This project was made by fans for the sole purpose of having fun," and it allows fans to explore various areas of the original game in 2D, such as Chozo Ruins, Artifact Temple, and Tallon Overworld. Players can also test out various abilities and power ups in the demo, with 360 degree aiming, scan visor, and the classic Morph Ball ability available. Of course, Team SCU have reiterated that everything in the demo may be subject to change, as they are not intent on copying from the original Metroid Prime game, but merely taking the core concepts and translating it to 2D.
While the project may be a welcome change to Metroid fans eager for more content, it remains to be seen whether Prime 2D will be safe from Nintendo's very protective and litigious stance on its franchises. Previously in 2016, AM2R, a very successful fan remake of Metroid 2, was taken down after receiving threats of legal action from Nintendo. Similarly, Pokémon Uranium, a fan made Pokémon game that was downloaded more than 1.5 million times, was also removed after legal threats from Nintendo. Of course, the threat of a possible legal take-down has never stopped fans from re-creating their beloved games, and now that Prime 2D is finally on the internet, it's going to be hard to wipe from existence entirely.
Prime2D's demo is available to play free on PC.
Source: NintendoLife
Poppy Playtime Chapter 2 Can Make Daddy Long Legs Canon
About The Author