Releasing on PS4 and PS5, Spider-Man: Miles Morales puts players into the role of the web-slinging superhero while Peter Parker is gone from New York City. With a great cast and dynamic gameplay, Spider-Man: Miles Morales has a lot to offer - including an impressive photo mode. However, it's currently missing one feature that made Ghost of Tsushima's photo mode so great.
The story of Spider-Man: Miles Morales may be fairly short, but there's still a lot for players to do in the game. Between unlocking extra content in New Game+ and various difficulty modes, there's plenty to keep completionists busy. While the photo mode doesn't really affect the main story at all, it's still a fun way to take screenshots and share them with friends.
While the various filters in Spider-Man: Miles Morales photo mode are great, there's one big feature missing. Currently, Spider-Man: Miles Morales doesn't have a way to change the weather or time of day. This was a key part of taking screenshots in Ghosts of Tsushima, a game celebrated for its excellent photo mode. If players didn't like the current weather, or wanted to change the time of day, that was completely possible. Spider-Man: Miles Morales could've benefited from a similar feature in its photo mode.
Spider-Man: Miles Morales' Photo Mode Could Be Even Better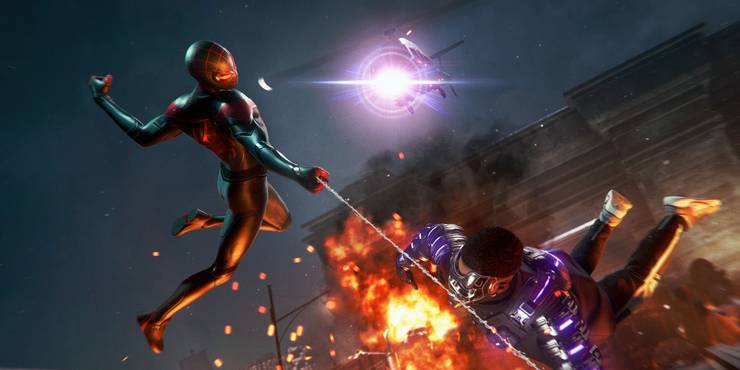 The photo mode in Spider-Man: Miles Morales is already pretty fantastic. With a variety of filters and customization options, it's a great way to take photos of everyone's friendly neighborhood web-slinger. However, in most of the game, it's snowing - and this can sometimes interfere with getting the perfect shot. Certain filters, such 8-bit, don't translate as well at nighttime. So, the ability to change the weather and the time of day would be an excellent way to improve the game's current photo mode.
This is something games can typically patch in without much effort. Games like The Last of Us Part II, Dragon Quest XI S, and Final Fantasy XIV have added in photo modes or new photo features after release. So, theoretically, it shouldn't be too difficult for weather and time-of-day variation options to be put into Spider-Man: Miles Morales.
For now, the photo mode in Ghost of Tsushima is a sort of gold standard, but Spider-Man: Miles Morales' photo mode is still pretty great. Even in nighttime, it's easy to add extra lights to images to make sure Miles is properly lit, but sometimes it's nice to be able to instantly swap from night to day or vice versa in order to get that one perfect shot. By adding in this key feature, the photo mode in Spider-Man: Miles Morales could be even better than it already is.
All Moon Knight Trailer Footage From Final 2 Episodes Edited Together
About The Author