If The Lego Movie proved anything, it's that even ideas that seem like they shouldn't work can end up working really well. Hopefully that will be the case with Minecraft: Story Mode, a tie-in for the hugely popular building/resource-gathering/exploration game Minecraft. Created by critically acclaimed studio Telltale Games and Minecraft creator Mojang AB, Minecraft: Story Mode is a narrative-driven episodic game series set in the blocky, creative open world of Minecraft.
This weekend saw the advent of Minecon, an annual celebration of all things Minecraft, during which Mojang and Telltale unveiled the very first trailer for Minecraft: Story Mode and revealed the impressive voice cast for the game: Patton Oswalt, Brian Posehn, Ashley Johnson, Scott Porter, Martha Plimpton, Dave Fennoy, Corey Feldman, Billy West, and Paul Reubens. Oswalt plays Jesse, the protagonist of the game and the character controlled by the player.
As with other Telltale titles, much of the gameplay will be oriented around the player making often difficult choices and experiencing their consequences. Check out the trailer above, and the official synopsis for Minecraft: Story Mode below.
Players will control protagonist Jesse throughout the season, as portrayed by actor Patton Oswalt. Jesse and his group of friends revere the legendary Order of the Stone; four adventurers who slayed an Ender Dragon. The Order are the very best at what they do: Warrior, Redstone Engineer, Griefer, and Architect. While at EnderCon, Jesse and his friends discover that something is wrong... something dreadful. Terror is unleashed, and they must set out on a journey to find The Order of the Stone if they are to save their world from oblivion.
Those who are familiar with Minecraft will probably recognize a lot of familiar elements from the trailer. There are the dreaded creepers, whose kamikaze tactics have sent many a player back to square one (or, more accurately, block one). There's the golem, a stone giant charged with protecting villages, whose wrath it's best not to incur. Then there's the Nether, a dark and terrible underworld populated by pixelated horrors.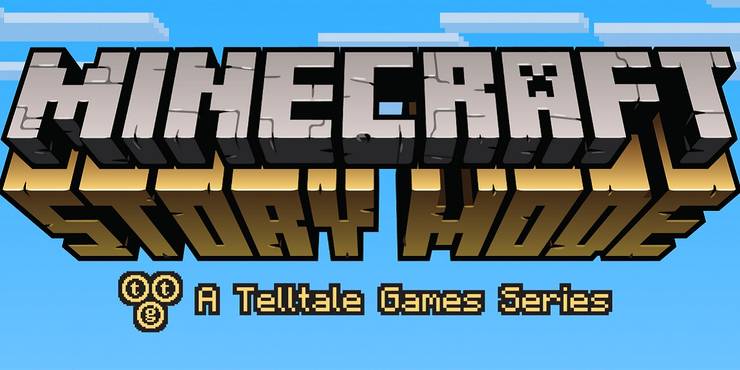 Telltale Games is also responsible for the excellent choice-and-consequence games based on The Walking Dead and Game of Thrones, so it's very exciting to see the studio team up with the minds at Mojang. While the story sounds pretty generic - a group of friends going on a journey to save the world from some kind of destructive force - this may be a deliberate attempt to make a game that's self-aware of standard video game plots.
The trailer for Minecraft: Story Mode wasn't the only significant announcement to come out of Minecon 2015. Mojang also revealed that a beta version of Minecraft: Windows 10 Edition is set for release on July 29th and will be available for free to anyone who already owns Minecraft on PC. Other players can buy it for the first time during the beta period for just $10. As with the earlier versions of Minecraft, the Windows 10 Edition will continue to evolve as players interact with it and offer feedback.
Minecraft: Story Mode will release on PC/Mac, PlayStation 4, PS3, Xbox One, Xbox 360, and compatible iOS and Android devices later in 2015. Minecraft: Windows 10 Edition will be available on PC from July 29th.
Source: Mojang AB, Telltale Games
What Mike Is Up To After 90 Day Fiancé: Before The 90 Days Season 5
About The Author