As Edie Falco returns to her Emmy nominated role of the saintly, yet drug addicted, Jackie Peyton in Nurse Jackie, some time has passed from the events that occurred in the first season finale. Things seemed to have calmed down for Jackie, but a trip to the beach proves otherwise as her daughter, Grace (Ruby Jerins), decides to bring soap to the beach and an unwelcome appearance by Eddie (Paul Schulze) pushes her to "deal with" some guys talking inappropriately in front of her child to which her husband responds, "don't f--k with her."
After last year's incident with a severed ear, Neil Nutterman's (Victor Garber) accidental coma and the Bureau of Narcotic Enforcement currently looking into All Saints' Hospital because of the amount medicine missing from the newly installed "Pill-O-Matic," Zoey (Merritt Wever) finds herself in the crosshairs of Akalitus (Anna Deavere Smith) as these events only started occurring after her arrival.
Dr. O'Hara (Eve Best) becomes interested in setting up a college fund for Jackie's daughters, Fiona (Mackenzie Aladjem) and Grace, after inheriting a large some of money from her mother's recent death, while Dr. Cooper (Peter Facinelli) seeks to lodge a formal complaint against Jackie which leads Akalitus to continuously write "World's Biggest A--hole" on her notepad.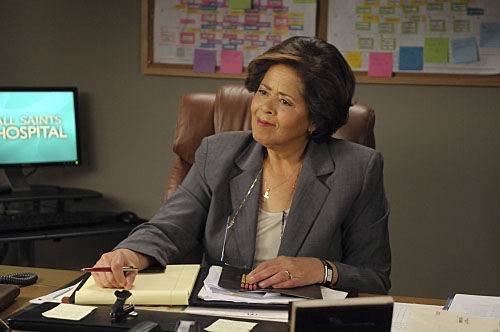 With Mo-Mo (Haaz Sleiman) noticeably missing, Akalitus hires someone to replace him; the one time drug addicted temp, Sam (Arjun Gupta), who called Jackie out on her drug use last season. Now that Sam is sober, he wastes no time asking Jackie if she wants to talk about her problem or go to meetings with him. "You and me are not buddies. You got it?" is her response.
When a deaf woman enters the ER with half of her fingers missing, Jackie steps in and calls her insurance company and through the use of her witty banter – and Google – she's able to finagle approval for the surgery to replace her fingers.
As Jackie continues to ignore Eddie's text messages through the day, he decides to make an unexpected visit to the emergency room in a last ditch effort to get her to talk to him. While his visit makes her stop and reflect, she takes a page out of Thor's (Stephen Wallem) book and goes home to enjoy cake with her family.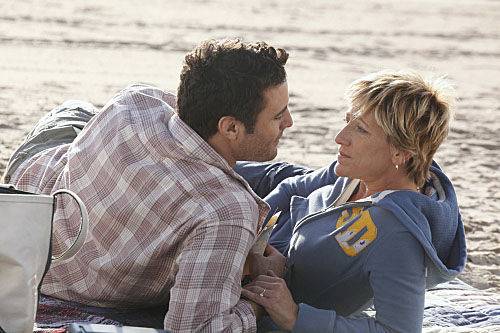 Review (for the purpose of this review, I've screened the first eight episodes of the second season)
Being the son of a RN (Registered Nurse), Nurse Jackie is right up my alley. The show provides a comedic look at the life of an emergency room nurse. While my childhood wasn't full of drug addiction and infidelity like Jackie's daughters, I have been told in jest to make sure I chew my food because if I start to choke, my mom wanted to make sure I knew she was "off the clock."
Refreshingly, the story picks up three months after the first season finale. While Eddie is no longer in Jackie's life, the means to he'll go in order to insert himself in her life are both interesting and terrifying. This will only continue as the season progresses.
Even though I wish the absence of Mo-Mo was explained, I'm happy to see Sam make his return to the nurse's station. While it was fun in the first season to see Jackie have her reign over everyone and everything, it's interesting to see how she handles someone keeping an eye on her.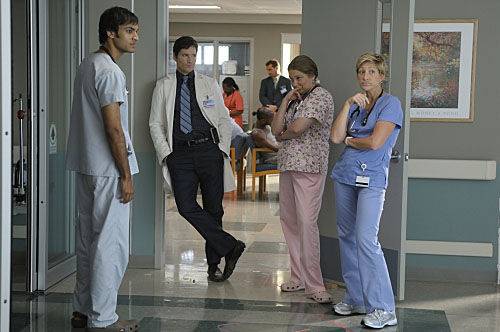 Except for Mo-Mo, the rest of the gang is back and they are amazing! In the coming episodes, Dr. O'Hara gets to prove that she's much more than a her deep pocketbook while Dr. Cooper deals with the consequences of becoming a face of All Saints' Hospital - especially with his propensity to grab breasts when he's nervous.
When it comes down to it, the real shining character this season is Zoey. While she still, rightfully, holds Jackie up on a pedestal, her character proves to be more than just the goofy sidekick. Don't get me wrong, she still provides some of the best laughs in the show, but you can tell that the writers took the time to fully realize her character and for that, I thank you.
Final Thoughts
The season premiere of Nurse Jackie deliveries in every way by not only continuing the comedy and drama fans tune in for, but also further developing the characters we've grown to love. My only complaint? I wish I had the final four episodes because this two month wait to catch up is going to kill me.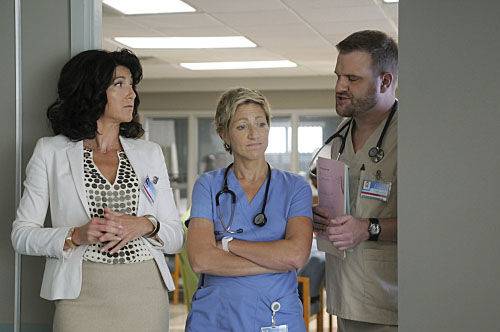 Discussion
What did you think of the season premiere of Nurse Jackie? Did it live up to your expectations?
How do you feel about Sam bring brought on as the new nurse? Do you think he'll keep Jackie in line?
How far will Eddie go to get Jackie attention? We've already see one drastic attempt.
Is anyone else as big of a fan of Zoey as I am?
Catch Nurse Jackie Monday's @10pm on Showtime
Follow me on twitter @anthonyocasio
90 Day Fiancé: Jasmine Posts Gino's Photos After Giving Him New Makeover
About The Author