Fans of Sony's hit animated movie Spider-Man: Into the Spider-Verse can see an extended cut of the film on home video. As one of the rare animated superhero movies to get a theatrical release and a substantial budget, the investment in Spider-Verse has proven to be well-placed. The film was met with glowing reviews and audiences have continued to support the movie's eye-catching visuals from day one.
After opening at the top spot this past December, Spider-Verse had great legs and will end its box office run with over $350 million earned - a great return on a $90 million budget. As great as the financial success has been, the Miles Morales origin story mixed with multiple realities film also became a juggernaut of awards season. It claimed a Golden Globe victory for Best Animated Film and most recently did the same at the Oscars. Through all the attention, it's become clear that audiences just can't get enough of Spider-Verse. And now, they can get even more when they buy the film.
Related: Bob Persichetti, Peter Ramsey, and Rodney Rothman Interview: Spider-Verse
Directors Rodney Rothman, Bob Persichetti, and Peter Ramsey were recently interviewed by Cinema Blend to promote Spider-Verse's home video release, and the outlet asked them what fans can expect to see included. One of the special features is actually an extended cut of the movie that they're calling the Alt-Universe Cut. Rothman explained in detail what the cut will consist of and said the following:
[Spider-Man: Into The Spider-Verse] had an unusual amount of material at every stage of production. So, an insane amount of storyboard material, like insane, like break your high end edit systems insane. An insane amount of layout, an insane amount of finished animation that didn't make it into the movie… an unusual amount. So the Alt-Universe Cut contains a bunch of that stuff that we chose not to put in the movie, but that in an alternate universe easily could have ended up in the movie. So, uh, that's kind of the premise behind it.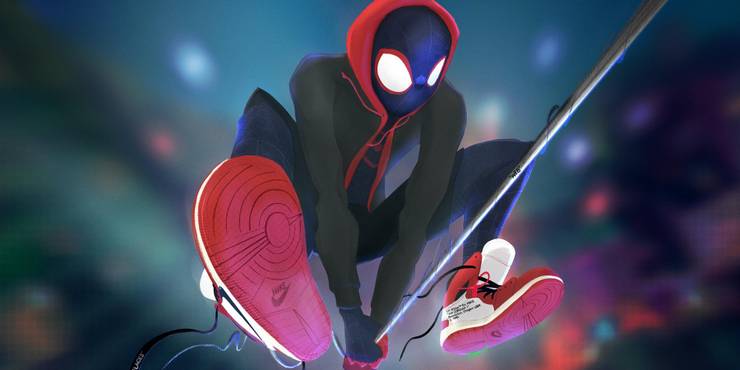 The Alt-Universe Cut of Spider-Verse adds roughly 30 more minutes to the film, which previously clocked in at just under 2 hours. The directors wouldn't reveal everything that'll be included in the longer cut, but Persichetti did confirm that there's a lot of footage that includes Miles and his roommate Ganke, who is barely used in the film but is a prominent figure in Miles' life in the comics. He also revealed that a favorite scene of theirs involving Miles and Peter Parker sitting on a billboard and talking will be included.
With Spider-Verse now available for purchase on digital, fans around the world can already begin to see what else is included in the Alt-Universe Cut. Of course, the longer version of the film is just one of many special features that are included. The bonus features include featurettes on the animation, a brand new Spider-Ham short, and much more. One of the many highlights may just be fans attempting to find all of the different Stan Lee cameos that happen throughout the film. And now that there's even more footage to dig through, there may very well be even more of the Marvel legend to see.
MORE: Hidden Details In Spider-Man: Into the Spider-Verse Only True Fans Noticed
Spider-Man: Into the Spider-Verse is available on digital now and on DVD/Blu-Ray/4K March 19th.
Source: Cinema Blend
Sonic 2 Recreates a Controversial Man of Steel Scene (And Agrees With It)
About The Author