An upcoming Star Wars novel will reveal the wedding of Han Solo and Leia Organa - and it's provoked a surprising backlash. Although the franchise is best known for its films, in truth Star Wars is a trailblazing transmedia franchise. Many key parts of the Star Wars story are told in other mediums, including in tie-in novels. Lucasfilm took advantage of Valentine's Day 2022 to announce an upcoming book by Beth Revis that would tell the story of Han and Leia's wedding.
Revis is no stranger to Star Wars fiction, but now she gets to tell the canon version of the franchise's greatest love story. The story picks up straight after the events of Return of the Jedi, with Han Solo proposing in the aftermath of the Rebel victory. After a hurried ceremony on Endor, the newlyweds head for a honeymoon aboard the Halcyon starcruiser. Revis is clearly excited at the opportunity to write these two iconic characters, and after rewatching the original trilogy she's developed a deep understanding of their relationship - of the contrast between Han's spontaneous commitment and the fact Leia needed all that time to think, but ultimately decided Han was the one she wanted to marry. The doomed love of Han and Leia is the greatest love story in the history of Star Wars, and no doubt Lucasfilm expected this to be fan-pleasing. Instead, it's generated a strong backlash.
The core problem lies in Lucasfilm's decision to tie the wedding of Han and Leia to the Halcyon. This is the luxury Star Wars themed hotel at Walt Disney World in Orlando, Florida, scheduled to open on March 1, 2022. Lucasfilm has been attempting to promote the hotel through various tie-ins, but this is the most egregious example to date. It has tarnished what should have been a romantic announcement, turning it into blatant cross-promotion, and on this point the backlash seems justified.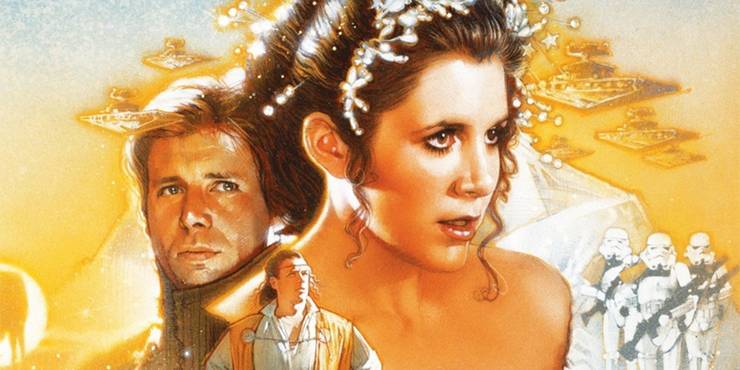 It's easy to see why Lucasfilm chose to make this announcement on Valentine's Day, but the timing couldn't actually be worse. The old Star Wars Expanded Universe had its own version of this wedding, in Dave Wolverton's novel The Courtship of Princess Leia, but this was branded non-canon when Disney acquired Lucasfilm after 2012. It wasn't exactly the best book in the EU, but it has its fans - and Wolverton died on January 14, 2022, exactly a month before Lucasfilm's romantic press release. It's not hard to see why many who were familiar with The Courtship of Princess Leia felt this announcement was extremely disrespectful. Lucasfilm would have been wiser to hold the book back - but, unfortunately, the very fact this was positioned as cross-promotion for the Halcyon meant they couldn't do so. No doubt all the various tie-ins designed to promote the Galactic Starcruiser hotel have been carefully scheduled to coincide with one another, and Lucasfilm didn't want to alter that schedule. The decision guaranteed that the backlash would be even worse.
Weddings are supposed to bring people together, but sadly that's not the case with the wedding of Han and Leia. Beth Revis is an excellent writer, and she's sure to have written a brilliant book, but her story will nonetheless be remembered for its controversy as much as for its narrative. Lucasfilm's decision made perfect sense on paper - but it was a bad misstep for Star Wars, and the backlash is fully justified.
Key Release Dates
Rogue Squadron (2023)Release date: Dec 22, 2023
Indiana Jones & Goonies Star Explains Why He Quit Acting For 20 Years
About The Author