Quentin Tarantino is moving forward with his Pulp Fiction NFT auction despite Miramax's lawsuit. The director's 1994 film was a significant breakthrough in the auteur's storied filmography, winning the Palme d'Or prize at the Cannes Film Festival and grossing over $213 million at the box office on a measly $8 million budget. Tarantino went on to win Best Original Screenplay at the Academy Awards with much of the cast receiving nominations as well, including John Travolta, Samuel L. Jackson, and Uma Thurman, which bolstered their careers.
In November of 2021, Tarantino announced his plans to auction off never-before-seen Pulp Fiction content as nonfungible tokens (NFTs), including 7 deleted scenes, the film's first handwritten script, and director's commentary. The studio that produced the film, Miramax, promptly sued the director, claiming the auction breaches their intellectual property agreement. Tarantino's lawyer responded to the lawsuit by denying Miramax's allegations and stating unequivocally that he has the right to sell Pulp Fiction-related NFTs.
Now, according to The New York Times, Quentin Tarantino is moving forward with his plans to auction off his original hand-written Pulp Fiction screenplay as NFTs. This is in spite of the studio's lawsuit, whose lawyers claim Tarantino's legal team has made no attempts to dismiss any of Miramax's claims or file any counterclaims or motions. A hearing is currently scheduled for February, in which Miramax could potentially block the auction.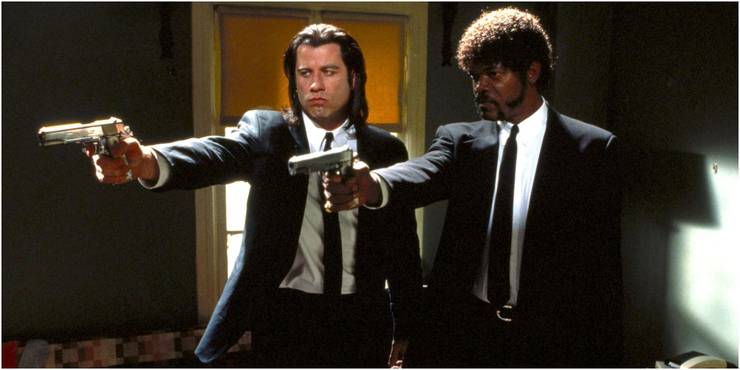 If all goes according to plan for Tarantino, he and his partner SCRT Labs (the creator of a privacy-focused blockchain) will auction off 7 chapters of the Pulp Fiction script between January 17 and January 31, each including director's commentary, on the world's largest NFT marketplace, OpenSea. According to the auction website which was just launched today, each NFT will include "a single iconic scene, including personalized audio commentary from Quentin Tarantino. The collector who will purchase one of these few and rare NFTs will get a hold of secrets from the screenplay and a glimpse into the mind and the creative process of Quentin Tarantino."
The ownership of Pulp Fiction was originally settled back in 1994 when the film was made, long before NFTs were created. This has now certainly created a murky legal situation as Miramax's lawyers argue that NFTs must be unique, while Tarantino's team claims he has the right to reproduce copies of his original script and sell them. While this legal battle between Miramax and Tarantino is far from over, the end result will definitely set a precedent regarding NFTs as a burgeoning form of selling intellectual property.
Source: The New York Times
Jim Carrey Impersonates Himself in Hilarious Sonic the Hedgehog 2 Video
About The Author