Christopher Nolan's The Dark Knight includes a subtle reference to a non-DC superhero movie. When The Dark Knight was released in 2008, the movie was nothing short of a cultural phenomenon. The film's box office success and widespread critical and audience praise also made it a watershed moment in superhero movies becoming what they are today.
In The Dark Knight, Batman (Christian Bale) continues to battle Gotham City's criminal underworld after Batman Begins. This leads the desperate mob bosses of Gotham to band together to protect their laundered millions. However, a new mysterious criminal known as The Joker (Heath Ledger) arrives to propose eliminating Batman.
The Joker has a particularly acidic relationship with crime boss Gambol (Michael Jai White), the Joker having robbed the mob bosses and making repeated jabs at Gambol in the meeting. Eventually, Gambol can't hold back his rage anymore, exclaiming "Enough from the clown!" and leaping to his feet to attack the Joker. Though the Joker's jacket full of grenades stop him in his tracks, the line itself is an Easter egg to Michael Jai White's previous superhero movie, 1997's Spawn. More specifically, the line references his Clown nemesis in the film.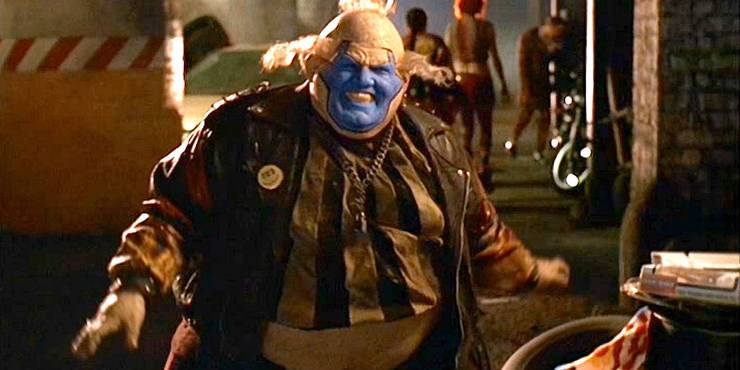 Based on Todd McFarlane's eponymous comic, Spawn saw White portray government assassin Al Simmons. After being murdered by his superiors and sent to hell, Simmons becomes a soldier with supernatural powers intended to lead the armies of hell. The sinister Clown (John Leguizamo) is Simmons' intended guide in taking him through his powers but becomes his enemy when Simmons refuses to lead hell's forces.
Spawn was a moderate hit in 1997 but left most critics and audiences unimpressed. That includes Michael Jai White himself, who has spoken of his own dissatisfaction with Spawn in the years since. Despite this, the performances of White and Leguizamo as Spawn and Clown were widely praised. The make-up of Spawn was also highlighted as a stand-out element, both on the burned face of Al Simmons and Leguizamo's heavy Clown make-up and suit.
White has since gone on to become a big star in action films, utilizing his skills as a martial artist in movies like Undisputed 2: Last Man Standing, Blood and Bone, and Triple Threat. He's also occasionally appeared in other superhero properties such as his role as Bronze Tiger in the CW series Arrow. Despite the reputation of Spawn as a film, White's performance in the role remains a beloved one. White's Gambol was a relatively brief but unforgettable character, the crime boss meeting his end after hearing the first of the Joker's two stories about his facial scars. The Dark Knight remains one of the most acclaimed superhero movies ever made, but it's also a fun Easter egg that the movie includes a quiet wink to White's beginnings in the cape-laden genre that was Spawn.
Indiana Jones & Goonies Star Explains Why He Quit Acting For 20 Years
About The Author