The latest PlayStation 4 firmware update introduced several changes to the system's Party functionality, including a concerning message stating users' voice chat may be recorded. Sony has since clarified the warning, but PlayStation users should know what exactly the voice chat recording message means.
The entirety of PS4 system software update 8.00 has been poorly received. Following the update, some users complained the PS4 Party system is now harder to use. The update merged the Party and Messages functions, but the new functionality doesn't allow multiple invites from the same party to be sent to one person. Additionally, selecting "Chat In Party" on a friend's options menu starts an entirely new party with them, automatically kicking the player from the current party without so much as an "Are You Sure?" confirmation.
Frustration met concern when players noticed the "About Party Safety" message, which warned, "By participating in voice chats, you agree to your voice being recorded." The warning seemed to raise fears of Sony listening in on users' conversations, much like Microsoft contractors did to some Kinect users. An update to a PlayStation Blog post, however, clarified how this feature will be used.
What PlayStation's New Voice Recording Warning Actually Means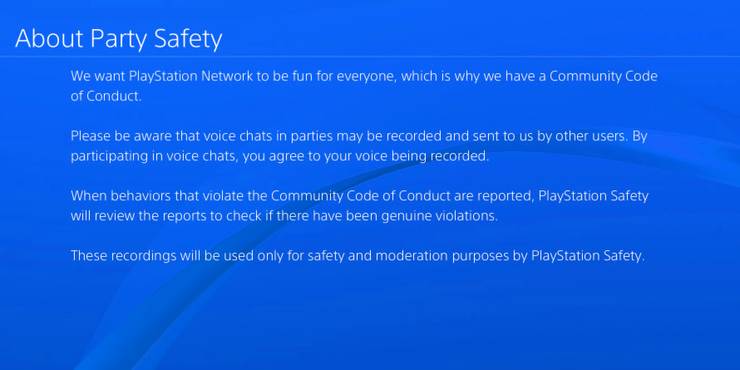 In the blog update, Sony explained the PlayStation 5 Party system will allow users to record voice chats for submission to Sony moderation. This allows potential victims of harassment or other violations of the PlayStation Network's policies to report their interactions with other party members. The voice recording feature will apparently only be available on PlayStation 5, but users on PS4 chatting with those on PS5 can still be recorded. Sony's full statement reads as follows:
"Following this update, users are seeing a notification about Party Safety and that voice chats in parties may be recorded. Voice chat recording for moderation is a feature that will be available on PS5 when it launches, and will enable users to record their voice chats on PS5 and submit them for moderation review. The pop up you're seeing on PS4 right now is to let you know that when you participate in a chat with a PS5 user (post-launch), they may submit those recordings from their PS5 console to SIE."
While not quite as scary as the warning may have made it seem, PlayStation users should still be aware of the voice recording agreement before chatting through the PS4 and PS5's onboard systems. Sony said any recordings will only be used for moderation purposes, but - especially with the DualSense controller's built-in microphone - it's no wonder some people might be wary of agreeing to be recorded. For now, PlayStation Party users will have to take Sony's word for it or use a third-party voice chat service, such as Discord (though those concerned with privacy may want to research these other chat apps, too).
90 Day Fiance: Hamza Shares Video Of New Baby's Car Seat In IG Video
About The Author