With just one day to go before Apple officially launches the iPhone 13, pictures of the phone's insides of already been shared online for the world to see. Following months of non-stop rumors, the iPhone 13 and iPhone 13 Pro lineups were properly unveiled on September 14. Apple also used this event to announce a new iPad, iPad mini, and Apple Watch Series 7 — thus building up a strong lineup for its Fall 2021 portfolio.
Among those devices, the iPhone 13 family has got most people talking. At first glance, all of the handsets look almost identical to their predecessors. They have the same display sizes, identical form factors, similar camera setups, and all of the same ports. Outside of repositioned camera sensors and a slightly smaller notch, it's difficult to tell an iPhone 13 from an iPhone 12. That's because most of Apple's upgrades lie under the hood.
Thanks to new photos from Apple leaker Sonny Dickson (and spotted by MacRumors), we now have a clear look inside the iPhone 13 to better understand how those internal upgrades come together. Dickson's photos show the iPhone 13 with its display propped up and the many internal components inside — such as the A15 chip, Face ID sensors, battery, etc.
What This iPhone 13 Teardown Reveals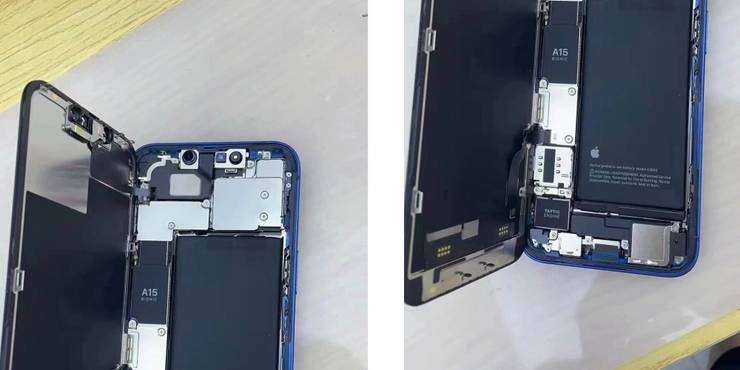 Starting from top to bottom, one thing that's immediately apparent is the tweaked setup for Face ID. The earpiece can be seen further towards the top of the frame, the TrueDepth camera appears to be slightly smaller, and the dot matrix projector now sits to the left of the camera instead of on the right. Directly below that is the battery. It's estimated to be a 15 percent size increase over the iPhone 12 — thus allowing for the 2.5 extra hours of use Apple's been advertising.
Another change is seen with the A15 Bionic chip. The top portion now has a horizontal orientation instead of a vertical one, with the bottom portion appearing a touch larger than its A14 predecessor. Below that at the bottom of the iPhone 13 is the Taptic Engine. The Taptic Engine appears considerably smaller than it did last generation, likely due to the increased battery capacity of this year's phone.
Overall, the inside of the iPhone 13 directly mimics Apple's marketing. It shows how the notch got smaller, why battery life is so much better, and how the chip design's been tweaked to account for its increased horsepower. The iPhone 13 still very much looks like an iPhone on the inside, albeit one with a few notable changes.
Source: Sonny Dickson, MacRumors
Movies Where Nic Cage Was Already Playing Himself
About The Author