Vegas! Big city lights, glamorous casinos, luxurious resorts, an Elvis impersonator every few feet...what's not to love about this amazing city? Las Vegas, Nevada is home to amazing spectacles like Cirque du Soleil, the biggest buffets, and even a two-story Coca-Cola store complete with a cafe to try soft drinks from around the world. While Las Vegas has all this and more, it is not the entertainment hub of America. That honor remains with the one and only Los Angeles. However, it would appear reality TV shows have left the mecca of the industry for greener pastures, or, in this case, sandy desert mountains. But why?
While some of reality tv is having to retreat from their normal "retreats," like Love Island from Fiji, others are simply trying to find a safe place to film in the USA. With international travel at a standstill, it is obvious that any and all American shows filming overseas will have to find alternative locations on the home front. But why would shows already shot in America choose to film in different locations than normal? Why would they choose Las Vegas over the entertainment capital of the United States? Is one really better than the other when it comes to COVID-19 safety?
In the past, Los Angeles experienced an uptick in COVID-19 cases. It was deemed one of America's hot spots, and still holds that title today (via ABC 7). Cases continue to soar, although it would appear that hospitalizations caused by the virus are in decline in LA County. At the same time, Las Vegas, arguably one of the biggest vacation destinations in the United States for singles, couples, and families alike, is experiencing a surge in coronavirus cases because of tourism. However, between the two, Las Vegas still has less cases than LA—roughly two thirds less at 10,736 in the last two weeks (via Google's COVID-19 Case Tracker). LA, on the other hand, reported 30,814 new cases in the last two weeks, not including the surrounding areas that make up the large metropolis.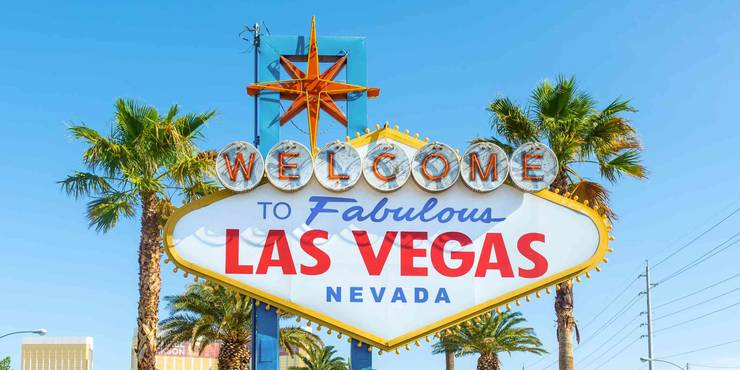 While both cities are experiencing rises in COVID-19 cases, it appears that one is doing slightly better than the other. In addition, Nevada is taking the filming of anything in the state very seriously. The Nevada Film Office developed a guide to filming in the state that is posted on their website. The Silver State is only allowing TV shows and films with 50 or fewer cast and crew members to film. They are also heavily emphasizing that productions adhere to any guidelines set by the company producing the content. The state is also stressing proper sanitation procedures and face coverings, as well as social distancing while on set. Crew members must wear gloves, which should be changed regularly, and everyone should avoid touching their face. It's clear they are taking the health and safety of those in the entertainment industry seriously. This explains why shows like Shark Tank and Love Island have relocated to Las Vegas for filming.
While Shark Tank originally films at a lot at Sony in Culver City, California, the sharks have now arrived at an unknown venue in Vegas, where they are taking every precaution to continue filming the show. The cast and crew are supposedly living in a "quarantine bubble" environment. Sin City has also welcomed Love Island with open arms for its second season of filming. The show is set to film in a Las Vegas hotel. Cast and crew will be quarantined for a two week period and then tested and re-tested as production continues.
Mitigating spread does not mean eliminating risk altogether, and it will be interesting to see if the safety measures taken will be enough to keep a reality TV COVID-19 outbreak from happening. We're also curious if any other networks and shows follow suit and head to Las Vegas. It is possible that, with the addition of several shows in Las Vegas venues, the city may experience an increase in cases from entertainment. Only time will tell how this new plan will work out.
90 Day Fiancé: Angela Spoils Real Relationship Status With Michael
About The Author